Cheap calls to United Kingdom with premium quality

Cheap international calls to UNITED KINGDOM

Local time in London is 6:16 am Sunday.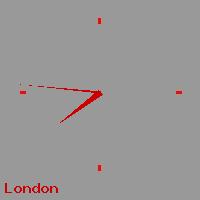 Make cheap International calls to United Kingdom from 20 cents per call with no connection fee, no hidden cost and no contract. You simply dial from your sip phone to call your friends or family members in United Kingdom. With ClicknCall you can drastically reduce your international calling cost. You don't even need any Internet connection to make cheap calls to United Kingdom!
---
You can make cheap international calls to United Kingdom from Australia with high quality.

Only 10¢ per SMS message sent to United Kingdom mobile from your PC.
---
Call rates to United Kingdom

Destination
Prefix
Rate (AUD)
Charge Unit
United kingdom - mobiles
4477
25¢
per minute
United kingdom - mobiles
4478
25¢
per minute
United kingdom - mobiles
4479
25¢
per minute
United kingdom other
448
52¢
per minute
United kingdom nts
44845
26.5¢
per minute
United kingdom nts
44870
26.5¢
per minute
United kingdom nts
44844
26.5¢
per minute
United kingdom nts
44871
52¢
per minute
United kingdom london
4420
20¢
per call
United kingdom - mobiles
447
25¢
per minute
United kingdom landline
441
20¢
per call
United kingdom - landlines
442
20¢
per call
United kingdom - uk-wide numbers
443
26.54¢
per minute
United kingdoms nts
4456
52¢
per minute
United kingdom - mobiles h3g
447869
25¢
per minute
United kingdom - mobiles h3g
447868
25¢
per minute
United kingdom - mobiles h3g
447865
25¢
per minute
United kingdom - mobiles h3g
447863
25¢
per minute
United kingdom - mobiles h3g
447862
25¢
per minute
United kingdom - mobiles h3g
447861
25¢
per minute
United kingdom - mobiles h3g
447859
25¢
per minute
United kingdom - mobiles h3g
447853
25¢
per minute
United kingdom - mobiles h3g
447877
25¢
per minute
United kingdom - mobiles h3g
447878
25¢
per minute
United kingdom - mobiles h3g
447882
25¢
per minute
United kingdom - mobiles h3g
447988
25¢
per minute
United kingdom - mobiles h3g
447916
25¢
per minute
United kingdom - mobiles h3g
447915
25¢
per minute
United kingdom - mobiles h3g
447898
25¢
per minute
United kingdom - mobiles h3g
447897
25¢
per minute
United kingdom - mobiles h3g
447888
25¢
per minute
United kingdom - mobiles h3g
447886
25¢
per minute
United kingdom - mobiles h3g
447883
25¢
per minute
United kingdom - mobiles h3g
447848
25¢
per minute
United kingdom - mobiles h3g
447846
25¢
per minute
United kingdom - mobiles h3g
447838
25¢
per minute
United kingdom - mobiles h3g
447578
25¢
per minute
United kingdom - mobiles h3g
447577
25¢
per minute
United kingdom - mobiles h3g
447576
25¢
per minute
United kingdom - mobiles h3g
447575
25¢
per minute
United kingdom - mobiles h3g
447403
25¢
per minute
United kingdom - mobiles h3g
447402
25¢
per minute
United kingdom - mobiles h3g
447401
25¢
per minute
United kingdom - mobiles h3g
447400
25¢
per minute
United kingdom - mobiles h3g
447533
25¢
per minute
United kingdom - mobiles h3g
447588
25¢
per minute
United kingdom - mobiles h3g
447723
25¢
per minute
United kingdom - mobiles h3g
447832
25¢
per minute
United kingdom - mobiles h3g
447830
25¢
per minute
United kingdom - mobiles h3g
447828
25¢
per minute
United kingdom - mobiles h3g
447782
25¢
per minute
United kingdom - mobiles h3g
447737
25¢
per minute
United kingdom - mobiles h3g
447735
25¢
per minute
United kingdom - mobiles h3g
447728
25¢
per minute
United kingdom - mobiles h3g
447727
25¢
per minute
United kingdom - mobiles orange
447891
25¢
per minute
United kingdom - mobiles orange
447896
25¢
per minute
United kingdom - mobiles orange
447929
25¢
per minute
United kingdom - mobiles orange
447964
25¢
per minute
United kingdom - mobiles orange
447965
25¢
per minute
United kingdom - mobiles orange
447966
25¢
per minute
United kingdom - mobiles orange
447890
25¢
per minute
United kingdom - mobiles orange
447875
25¢
per minute
United kingdom - mobiles orange
447870
25¢
per minute
United kingdom - mobiles orange
447866
25¢
per minute
United kingdom - mobiles orange
447855
25¢
per minute
United kingdom - mobiles orange
447854
25¢
per minute
United kingdom - mobiles orange
447837
25¢
per minute
United kingdom - mobiles orange
447817
25¢
per minute
United kingdom - mobiles orange
447816
25¢
per minute
United kingdom - mobiles orange
447967
25¢
per minute
United kingdom - mobiles orange
447968
25¢
per minute
United kingdom - mobiles orange
447969
25¢
per minute
United kingdom - mobiles orange
4475323
25¢
per minute
United kingdom - mobiles orange
4475322
25¢
per minute
United kingdom - mobiles orange
4475321
25¢
per minute
United kingdom - mobiles orange
4475320
25¢
per minute
United kingdom - mobiles orange
447989
25¢
per minute
United kingdom - mobiles orange
447980
25¢
per minute
United kingdom - mobiles orange
447977
25¢
per minute
United kingdom - mobiles orange
447976
25¢
per minute
United kingdom - mobiles orange
447975
25¢
per minute
United kingdom - mobiles orange
447974
25¢
per minute
United kingdom - mobiles orange
447973
25¢
per minute
United kingdom - mobiles orange
447972
25¢
per minute
United kingdom - mobiles orange
447971
25¢
per minute
United kingdom - mobiles orange
447970
25¢
per minute
United kingdom - mobiles orange
4475324
25¢
per minute
United kingdom - mobiles orange
447815
25¢
per minute
United kingdom - mobiles orange
447409
25¢
per minute
United kingdom - mobiles orange
447528
25¢
per minute
United kingdom - mobiles orange
447527
25¢
per minute
United kingdom - mobiles orange
447583
25¢
per minute
United kingdom - mobiles orange
447582
25¢
per minute
United kingdom - mobiles orange
447581
25¢
per minute
United kingdom - mobiles orange
447580
25¢
per minute
United kingdom - mobiles orange
447579
25¢
per minute
United kingdom - mobiles orange
447556
25¢
per minute
United kingdom - mobiles orange
447422
25¢
per minute
United kingdom - mobiles orange
447421
25¢
per minute
United kingdom - mobiles orange
447420
25¢
per minute
United kingdom - mobiles orange
447419
25¢
per minute
United kingdom - mobiles orange
447416
25¢
per minute
United kingdom - mobiles orange
447410
25¢
per minute
United kingdom - mobiles orange
447529
25¢
per minute
United kingdom - mobiles orange
447530
25¢
per minute
United kingdom - mobiles orange
447531
25¢
per minute
United kingdom - mobiles orange
447814
25¢
per minute
United kingdom - mobiles orange
447813
25¢
per minute
United kingdom - mobiles orange
447812
25¢
per minute
United kingdom - mobiles orange
447811
25¢
per minute
United kingdom - mobiles orange
447807
25¢
per minute
United kingdom - mobiles orange
447805
25¢
per minute
United kingdom - mobiles orange
447800
25¢
per minute
United kingdom - mobiles orange
447794
25¢
per minute
United kingdom - mobiles orange
447792
25¢
per minute
United kingdom - mobiles orange
447536
25¢
per minute
United kingdom - mobiles orange
447772
25¢
per minute
United kingdom - mobiles orange
447773
25¢
per minute
United kingdom - mobiles orange
447779
25¢
per minute
United kingdom - mobiles orange
447790
25¢
per minute
United kingdom - mobiles orange
447791
25¢
per minute
United kingdom - mobiles tmobile
447947
25¢
per minute
United kingdom - mobiles tmobile
447948
25¢
per minute
United kingdom - mobiles tmobile
447949
25¢
per minute
United kingdom - mobiles tmobile
447950
25¢
per minute
United kingdom - mobiles tmobile
447951
25¢
per minute
United kingdom - mobiles tmobile
447952
25¢
per minute
United kingdom - mobiles tmobile
447946
25¢
per minute
United kingdom - mobiles tmobile
447945
25¢
per minute
United kingdom - mobiles tmobile
447944
25¢
per minute
United kingdom - mobiles tmobile
447943
25¢
per minute
United kingdom - mobiles tmobile
447942
25¢
per minute
United kingdom - mobiles tmobile
447941
25¢
per minute
United kingdom - mobiles tmobile
447940
25¢
per minute
United kingdom - mobiles tmobile
447939
25¢
per minute
United kingdom - mobiles tmobile
447932
25¢
per minute
United kingdom - mobiles tmobile
447953
25¢
per minute
United kingdom - mobiles tmobile
447954
25¢
per minute
United kingdom - mobiles tmobile
447986
25¢
per minute
United kingdom - mobiles tmobile
447985
25¢
per minute
United kingdom - mobiles tmobile
447984
25¢
per minute
United kingdom - mobiles tmobile
447983
25¢
per minute
United kingdom - mobiles tmobile
447982
25¢
per minute
United kingdom - mobiles tmobile
447981
25¢
per minute
United kingdom - mobiles tmobile
447963
25¢
per minute
United kingdom - mobiles tmobile
447962
25¢
per minute
United kingdom - mobiles tmobile
447961
25¢
per minute
United kingdom - mobiles tmobile
447960
25¢
per minute
United kingdom - mobiles tmobile
447959
25¢
per minute
United kingdom - mobiles tmobile
447958
25¢
per minute
United kingdom - mobiles tmobile
447957
25¢
per minute
United kingdom - mobiles tmobile
447956
25¢
per minute
United kingdom - mobiles tmobile
447987
25¢
per minute
United kingdom - mobiles tmobile
447415
25¢
per minute
United kingdom - mobiles tmobile
447722
25¢
per minute
United kingdom - mobiles tmobile
447550
25¢
per minute
United kingdom - mobiles tmobile
447539
25¢
per minute
United kingdom - mobiles tmobile
447538
25¢
per minute
United kingdom - mobiles tmobile
447535
25¢
per minute
United kingdom - mobiles tmobile
447534
25¢
per minute
United kingdom - mobiles tmobile
447508
25¢
per minute
United kingdom - mobiles tmobile
447507
25¢
per minute
United kingdom - mobiles tmobile
447506
25¢
per minute
United kingdom - mobiles tmobile
447505
25¢
per minute
United kingdom - mobiles tmobile
447504
25¢
per minute
United kingdom - mobiles tmobile
447574
25¢
per minute
United kingdom - mobiles tmobile
447573
25¢
per minute
United kingdom - mobiles tmobile
447572
25¢
per minute
United kingdom - mobiles tmobile
447726
25¢
per minute
United kingdom - mobiles tmobile
447757
25¢
per minute
United kingdom - mobiles tmobile
447931
25¢
per minute
United kingdom - mobiles tmobile
447930
25¢
per minute
United kingdom - mobiles tmobile
447914
25¢
per minute
United kingdom - mobiles tmobile
447913
25¢
per minute
United kingdom - mobiles tmobile
447910
25¢
per minute
United kingdom - mobiles tmobile
447908
25¢
per minute
United kingdom - mobiles tmobile
447906
25¢
per minute
United kingdom - mobiles tmobile
447905
25¢
per minute
United kingdom - mobiles tmobile
447904
25¢
per minute
United kingdom - mobiles tmobile
447758
25¢
per minute
United kingdom - mobiles tmobile
447804
25¢
per minute
United kingdom - mobiles tmobile
447806
25¢
per minute
United kingdom - mobiles tmobile
447847
25¢
per minute
United kingdom - mobiles tmobile
447852
25¢
per minute
United kingdom - mobiles tmobile
447903
25¢
per minute
United kingdom - mobiles vodafone
447818
25¢
per minute
United kingdom - mobiles vodafone
447823
25¢
per minute
United kingdom - mobiles vodafone
447824
25¢
per minute
United kingdom - mobiles vodafone
447825
25¢
per minute
United kingdom - mobiles vodafone
447826
25¢
per minute
United kingdom - mobiles vodafone
447827
25¢
per minute
United kingdom - mobiles vodafone
447831
25¢
per minute
United kingdom - mobiles vodafone
447810
25¢
per minute
United kingdom - mobiles vodafone
447799
25¢
per minute
United kingdom - mobiles vodafone
447798
25¢
per minute
United kingdom - mobiles vodafone
447796
25¢
per minute
United kingdom - mobiles vodafone
447795
25¢
per minute
United kingdom - mobiles vodafone
447789
25¢
per minute
United kingdom - mobiles vodafone
447788
25¢
per minute
United kingdom - mobiles vodafone
447787
25¢
per minute
United kingdom - mobiles vodafone
447786
25¢
per minute
United kingdom - mobiles vodafone
447785
25¢
per minute
United kingdom - mobiles vodafone
447833
25¢
per minute
United kingdom - mobiles vodafone
447836
25¢
per minute
United kingdom - mobiles vodafone
447867
25¢
per minute
United kingdom - mobiles vodafone
447990
25¢
per minute
United kingdom - mobiles vodafone
447979
25¢
per minute
United kingdom - mobiles vodafone
447920
25¢
per minute
United kingdom - mobiles vodafone
447919
25¢
per minute
United kingdom - mobiles vodafone
447918
25¢
per minute
United kingdom - mobiles vodafone
447917
25¢
per minute
United kingdom - mobiles vodafone
447909
25¢
per minute
United kingdom - mobiles vodafone
447901
25¢
per minute
United kingdom - mobiles vodafone
447900
25¢
per minute
United kingdom - mobiles vodafone
447899
25¢
per minute
United kingdom - mobiles vodafone
447887
25¢
per minute
United kingdom - mobiles vodafone
447884
25¢
per minute
United kingdom - mobiles vodafone
447881
25¢
per minute
United kingdom - mobiles vodafone
447880
25¢
per minute
United kingdom - mobiles vodafone
447879
25¢
per minute
United kingdom - mobiles vodafone
447876
25¢
per minute
United kingdom - mobiles vodafone
447770
25¢
per minute
United kingdom - mobiles vodafone
447780
25¢
per minute
United kingdom - mobiles vodafone
447553
25¢
per minute
United kingdom - mobiles vodafone
447552
25¢
per minute
United kingdom - mobiles vodafone
447551
25¢
per minute
United kingdom - mobiles vodafone
447503
25¢
per minute
United kingdom - mobiles vodafone
447502
25¢
per minute
United kingdom - mobiles vodafone
447501
25¢
per minute
United kingdom - mobiles vodafone
447500
25¢
per minute
United kingdom - mobiles vodafone
4475374
25¢
per minute
United kingdom - mobiles vodafone
447587
25¢
per minute
United kingdom - mobiles vodafone
447586
25¢
per minute
United kingdom - mobiles vodafone
447585
25¢
per minute
United kingdom - mobiles vodafone
447584
25¢
per minute
United kingdom - mobiles vodafone
447570
25¢
per minute
United kingdom - mobiles vodafone
447557
25¢
per minute
United kingdom - mobiles vodafone
447555
25¢
per minute
United kingdom - mobiles vodafone
447423
25¢
per minute
United kingdom - mobiles vodafone
447554
25¢
per minute
United kingdom - mobiles vodafone
447717
25¢
per minute
United kingdom - mobiles vodafone
447721
25¢
per minute
United kingdom - mobiles vodafone
447778
25¢
per minute
United kingdom - mobiles vodafone
447776
25¢
per minute
United kingdom - mobiles vodafone
447775
25¢
per minute
United kingdom - mobiles vodafone
447774
25¢
per minute
United kingdom - mobiles vodafone
447771
25¢
per minute
United kingdom - mobiles vodafone
447407
25¢
per minute
United kingdom - mobiles vodafone
447769
25¢
per minute
United kingdom - mobiles vodafone
447768
25¢
per minute
United kingdom - mobiles vodafone
447767
25¢
per minute
United kingdom - mobiles vodafone
447733
25¢
per minute
United kingdom - mobiles vodafone
447741
25¢
per minute
United kingdom - mobiles vodafone
447747
25¢
per minute
United kingdom - mobiles vodafone
447748
25¢
per minute
United kingdom - mobiles vodafone
447760
25¢
per minute
United kingdom - mobiles vodafone
447765
25¢
per minute
United kingdom - mobiles vodafone
447766
25¢
per minute
United kingdom - mobiles o2
447912
25¢
per minute
United kingdom - mobiles o2
447907
25¢
per minute
United kingdom - mobiles o2
447902
25¢
per minute
United kingdom - mobiles o2
447895
25¢
per minute
United kingdom - mobiles o2
447894
25¢
per minute
United kingdom - mobiles o2
447889
25¢
per minute
United kingdom - mobiles o2
447885
25¢
per minute
United kingdom - mobiles o2
447871
25¢
per minute
United kingdom - mobiles o2
447860
25¢
per minute
United kingdom - mobiles o2
447858
25¢
per minute
United kingdom - mobiles o2
447921
25¢
per minute
United kingdom - mobiles o2
447922
25¢
per minute
United kingdom - mobiles o2
447923
25¢
per minute
United kingdom - mobiles o2
447938
25¢
per minute
United kingdom - mobiles o2
447936
25¢
per minute
United kingdom - mobiles o2
447935
25¢
per minute
United kingdom - mobiles o2
447934
25¢
per minute
United kingdom - mobiles o2
447933
25¢
per minute
United kingdom - mobiles o2
447928
25¢
per minute
United kingdom - mobiles o2
447927
25¢
per minute
United kingdom - mobiles o2
447926
25¢
per minute
United kingdom - mobiles o2
447925
25¢
per minute
United kingdom - mobiles o2
447955
25¢
per minute
United kingdom - mobiles o2
447857
25¢
per minute
United kingdom - mobiles o2
447821
25¢
per minute
United kingdom - mobiles o2
447820
25¢
per minute
United kingdom - mobiles o2
447819
25¢
per minute
United kingdom - mobiles o2
447809
25¢
per minute
United kingdom - mobiles o2
447808
25¢
per minute
United kingdom - mobiles o2
447803
25¢
per minute
United kingdom - mobiles o2
447802
25¢
per minute
United kingdom - mobiles o2
447801
25¢
per minute
United kingdom - mobiles o2
447793
25¢
per minute
United kingdom - mobiles o2
447834
25¢
per minute
United kingdom - mobiles o2
447835
25¢
per minute
United kingdom - mobiles o2
447840
25¢
per minute
United kingdom - mobiles o2
447856
25¢
per minute
United kingdom - mobiles o2
447851
25¢
per minute
United kingdom - mobiles o2
447850
25¢
per minute
United kingdom - mobiles o2
447849
25¢
per minute
United kingdom - mobiles o2
447845
25¢
per minute
United kingdom - mobiles o2
447844
25¢
per minute
United kingdom - mobiles o2
447843
25¢
per minute
United kingdom - mobiles o2
447842
25¢
per minute
United kingdom - mobiles o2
447841
25¢
per minute
United kingdom - mobiles o2
447784
25¢
per minute
United kingdom - mobiles o2
4478937
25¢
per minute
United kingdom - mobiles o2
4478747
25¢
per minute
United kingdom - mobiles o2
4478746
25¢
per minute
United kingdom - mobiles o2
4478743
25¢
per minute
United kingdom - mobiles o2
4478742
25¢
per minute
United kingdom - mobiles o2
4478741
25¢
per minute
United kingdom - mobiles o2
4478740
25¢
per minute
United kingdom - mobiles o2
4478739
25¢
per minute
United kingdom - mobiles o2
4478738
25¢
per minute
United kingdom - mobiles o2
4478737
25¢
per minute
United kingdom - mobiles o2
4478748
25¢
per minute
United kingdom - mobiles o2
4478749
25¢
per minute
United kingdom - mobiles o2
4478923
25¢
per minute
United kingdom - mobiles o2
4478936
25¢
per minute
United kingdom - mobiles o2
4478935
25¢
per minute
United kingdom - mobiles o2
4478934
25¢
per minute
United kingdom - mobiles o2
4478932
25¢
per minute
United kingdom - mobiles o2
4478929
25¢
per minute
United kingdom - mobiles o2
4478928
25¢
per minute
United kingdom - mobiles o2
4478927
25¢
per minute
United kingdom - mobiles o2
4478926
25¢
per minute
United kingdom - mobiles o2
4478924
25¢
per minute
United kingdom - mobiles o2
4478736
25¢
per minute
United kingdom - mobiles o2
4478735
25¢
per minute
United kingdom - mobiles o2
4478649
25¢
per minute
United kingdom - mobiles o2
4478648
25¢
per minute
United kingdom - mobiles o2
4478647
25¢
per minute
United kingdom - mobiles o2
4478646
25¢
per minute
United kingdom - mobiles o2
4478645
25¢
per minute
United kingdom - mobiles o2
4478643
25¢
per minute
United kingdom - mobiles o2
4478642
25¢
per minute
United kingdom - mobiles o2
4478641
25¢
per minute
United kingdom - mobiles o2
4478640
25¢
per minute
United kingdom - mobiles o2
4478720
25¢
per minute
United kingdom - mobiles o2
4478721
25¢
per minute
United kingdom - mobiles o2
4478723
25¢
per minute
United kingdom - mobiles o2
4478734
25¢
per minute
United kingdom - mobiles o2
4478733
25¢
per minute
United kingdom - mobiles o2
4478732
25¢
per minute
United kingdom - mobiles o2
4478731
25¢
per minute
United kingdom - mobiles o2
4478729
25¢
per minute
United kingdom - mobiles o2
4478728
25¢
per minute
United kingdom - mobiles o2
4478726
25¢
per minute
United kingdom - mobiles o2
4478725
25¢
per minute
United kingdom - mobiles o2
4478724
25¢
per minute
United kingdom - mobiles o2
447999
25¢
per minute
United kingdom - mobiles o2
447701
25¢
per minute
United kingdom - mobiles o2
447547
25¢
per minute
United kingdom - mobiles o2
447546
25¢
per minute
United kingdom - mobiles o2
447545
25¢
per minute
United kingdom - mobiles o2
447544
25¢
per minute
United kingdom - mobiles o2
447543
25¢
per minute
United kingdom - mobiles o2
447542
25¢
per minute
United kingdom - mobiles o2
447541
25¢
per minute
United kingdom - mobiles o2
447540
25¢
per minute
United kingdom - mobiles o2
447526
25¢
per minute
United kingdom - mobiles o2
447548
25¢
per minute
United kingdom - mobiles o2
447549
25¢
per minute
United kingdom - mobiles o2
447590
25¢
per minute
United kingdom - mobiles o2
447599
25¢
per minute
United kingdom - mobiles o2
447598
25¢
per minute
United kingdom - mobiles o2
447597
25¢
per minute
United kingdom - mobiles o2
447596
25¢
per minute
United kingdom - mobiles o2
447595
25¢
per minute
United kingdom - mobiles o2
447594
25¢
per minute
United kingdom - mobiles o2
447593
25¢
per minute
United kingdom - mobiles o2
447592
25¢
per minute
United kingdom - mobiles o2
447591
25¢
per minute
United kingdom - mobiles o2
447525
25¢
per minute
United kingdom - mobiles o2
447523
25¢
per minute
United kingdom - mobiles o2
447569
25¢
per minute
United kingdom - mobiles o2
447568
25¢
per minute
United kingdom - mobiles o2
447567
25¢
per minute
United kingdom - mobiles o2
447566
25¢
per minute
United kingdom - mobiles o2
447565
25¢
per minute
United kingdom - mobiles o2
447564
25¢
per minute
United kingdom - mobiles o2
447563
25¢
per minute
United kingdom - mobiles o2
447562
25¢
per minute
United kingdom - mobiles o2
447561
25¢
per minute
United kingdom - mobiles o2
447510
25¢
per minute
United kingdom - mobiles o2
447511
25¢
per minute
United kingdom - mobiles o2
447512
25¢
per minute
United kingdom - mobiles o2
447522
25¢
per minute
United kingdom - mobiles o2
447521
25¢
per minute
United kingdom - mobiles o2
447519
25¢
per minute
United kingdom - mobiles o2
447518
25¢
per minute
United kingdom - mobiles o2
447517
25¢
per minute
United kingdom - mobiles o2
447516
25¢
per minute
United kingdom - mobiles o2
447515
25¢
per minute
United kingdom - mobiles o2
447514
25¢
per minute
United kingdom - mobiles o2
447513
25¢
per minute
United kingdom - mobiles o2
447560
25¢
per minute
United kingdom - mobiles o2
447783
25¢
per minute
United kingdom - mobiles o2
447746
25¢
per minute
United kingdom - mobiles o2
447745
25¢
per minute
United kingdom - mobiles o2
447743
25¢
per minute
United kingdom - mobiles o2
447742
25¢
per minute
United kingdom - mobiles o2
447740
25¢
per minute
United kingdom - mobiles o2
447739
25¢
per minute
United kingdom - mobiles o2
447738
25¢
per minute
United kingdom - mobiles o2
447736
25¢
per minute
United kingdom - mobiles o2
447734
25¢
per minute
United kingdom - mobiles o2
447749
25¢
per minute
United kingdom - mobiles o2
447750
25¢
per minute
United kingdom - mobiles o2
447751
25¢
per minute
United kingdom - mobiles o2
447764
25¢
per minute
United kingdom - mobiles o2
447763
25¢
per minute
United kingdom - mobiles o2
447762
25¢
per minute
United kingdom - mobiles o2
447761
25¢
per minute
United kingdom - mobiles o2
447759
25¢
per minute
United kingdom - mobiles o2
447756
25¢
per minute
United kingdom - mobiles o2
447754
25¢
per minute
United kingdom - mobiles o2
447753
25¢
per minute
United kingdom - mobiles o2
447752
25¢
per minute
United kingdom - mobiles o2
447732
25¢
per minute
United kingdom - mobiles o2
447731
25¢
per minute
United kingdom - mobiles o2
447711
25¢
per minute
United kingdom - mobiles o2
447710
25¢
per minute
United kingdom - mobiles o2
447709
25¢
per minute
United kingdom - mobiles o2
447708
25¢
per minute
United kingdom - mobiles o2
447707
25¢
per minute
United kingdom - mobiles o2
447706
25¢
per minute
United kingdom - mobiles o2
447705
25¢
per minute
United kingdom - mobiles o2
447704
25¢
per minute
United kingdom - mobiles o2
447703
25¢
per minute
United kingdom - mobiles o2
447702
25¢
per minute
United kingdom - mobiles o2
447712
25¢
per minute
United kingdom - mobiles o2
447713
25¢
per minute
United kingdom - mobiles o2
447730
25¢
per minute
United kingdom - mobiles o2
447729
25¢
per minute
United kingdom - mobiles o2
447725
25¢
per minute
United kingdom - mobiles o2
447724
25¢
per minute
United kingdom - mobiles o2
447720
25¢
per minute
United kingdom - mobiles o2
447719
25¢
per minute
United kingdom - mobiles o2
447718
25¢
per minute
United kingdom - mobiles o2
447716
25¢
per minute
United kingdom - mobiles o2
447715
25¢
per minute
United kingdom - mobiles o2
447714
25¢
per minute
United kingdom other
44800
5¢
per minute
United kingdom other
44808
5¢
per minute
United kingdom nts
4487
52¢
per minute
United kingdom nts
44842
26.5¢
per minute
United kingdom nts
44843
26.5¢
per minute
---
Making cheap calls to United Kingdom has never been easier! Call another country: