Cheap calls to Sweden with premium quality

Cheap international calls to SWEDEN

Local time in Stockholm is 10:32 pm Wednesday.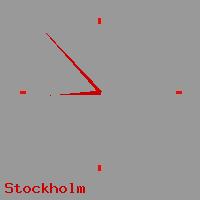 Make cheap International calls to Sweden from 1.5 cents per minute with no connection fee, no hidden cost and no contract. You simply dial from your sip/VoIP phone to call your friends and family members in Sweden. With ClicknCall you can drastically reduce your international calling expense and save. You don't even need any Internet connection to make cheap calls to Sweden! You can use it just like a phone calling card by calling the local access numbers or the global access numbers.
---
You can make cheap international calls to Sweden from Australia using our best quality VoIP services or use it just like an old-fashion calling card without any Internet connection.


Only 5 cents per SMS message sent to Sweden mobiles from your web browser.
---
Call rates to Sweden

Destination
Prefix
Rate (AUD)
Charge Unit
Sweden - landlines
461
1.5 cents
per minute
Sweden - landlines
462
1.5 cents
per minute
Sweden - landlines
463
1.5 cents
per minute
Sweden - landlines
464
1.5 cents
per minute
Sweden - landlines
465
1.5 cents
per minute
Sweden - landlines
466
1.5 cents
per minute
Sweden - landlines
468
1.5 cents
per minute
Sweden - freephone
4620
1.5 cents
per minute
Sweden - personal numbers
4675
2.5 cents
per minute
Sweden - mobiles
46674
3.5 cents
per minute
Sweden - mobiles
467
3.5 cents
per minute
Sweden - mobiles h3g
467619
52 cents
per minute
Sweden - mobiles h3g
46675
52 cents
per minute
Sweden - mobiles h3g
467230
52 cents
per minute
Sweden - mobiles h3g
467231
52 cents
per minute
Sweden - mobiles h3g
467243
52 cents
per minute
Sweden - mobiles h3g
467242
52 cents
per minute
Sweden - mobiles h3g
467934
52 cents
per minute
Sweden - mobiles h3g
467933
52 cents
per minute
Sweden - mobiles h3g
467932
52 cents
per minute
Sweden - mobiles h3g
467931
52 cents
per minute
Sweden - mobiles h3g
467930
52 cents
per minute
Sweden - mobiles h3g
46763
52 cents
per minute
Sweden - mobiles h3g
467232
52 cents
per minute
Sweden - mobiles h3g
467618
52 cents
per minute
Sweden - mobiles h3g
467617
52 cents
per minute
Sweden - mobiles h3g
467616
52 cents
per minute
Sweden - mobiles h3g
46760
52 cents
per minute
Sweden - mobiles h3g
467354
52 cents
per minute
Sweden - mobiles h3g
467353
52 cents
per minute
Sweden - mobiles h3g
467352
52 cents
per minute
Sweden - mobiles h3g
467351
52 cents
per minute
Sweden - mobiles h3g
467350
52 cents
per minute
Sweden - mobiles h3g
467233
52 cents
per minute
---
Making cheap calls to Sweden has never been easier! Call another country: