Cheap calls to Spain with premium quality

Cheap international calls to SPAIN

Local time in Madrid is 3:36 pm Monday.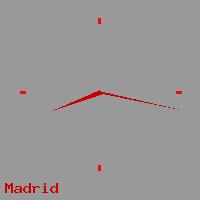 Make cheap International calls to Spain from 20 cents per call with no connection fee, no hidden cost and no contract. You simply dial from your sip phone to call your friends or family members in Spain. With ClicknCall you can drastically reduce your international calling cost. You don't even need any Internet connection to make cheap calls to Spain!
---
You can make cheap international calls to Spain from Australia with high quality.

Only 10¢ per SMS message sent to Spain mobile from your PC.
---
Call rates to Spain

Destination
Prefix
Rate (AUD)
Charge Unit
Spain - landlines
349
20¢
per call
Spain - mobiles
346
25.65¢
per minute
Spain - special services
3451
18.5¢
per minute
Spain - special services
34901
18.5¢
per minute
Spain - special services
34902
18.5¢
per minute
Spain - special services
34908
18.5¢
per minute
Spain - special services
34909
18.5¢
per minute
Spain - all
34
20¢
per call
Spain - landlines
3492
20¢
per call
Spain - premium
341248
35.4¢
per minute
Spain - premium
3414
35.4¢
per minute
Spain - premium
3415
35.4¢
per minute
Spain - premium
3416
35.4¢
per minute
Spain - premium
341700
35.4¢
per minute
Spain - premium
341701
35.4¢
per minute
Spain - premium
3480
35.4¢
per minute
Spain - premium
3490
35.4¢
per minute
Spain - premium
349401
35.4¢
per minute
Spain - premium
349402
35.4¢
per minute
Spain - premium
349403
35.4¢
per minute
Spain - premium
349404
35.4¢
per minute
Spain - premium
349406
35.4¢
per minute
Spain - premium
349407
35.4¢
per minute
Spain - madrid
3491
20¢
per call
Spain - barcelona
3493
20¢
per call
Spain cellular-xfera
34622
12.78¢
per minute
Spain cellular-xfera
34633
12.78¢
per minute
Spain cellular-xfera
347221
12.78¢
per minute
Spain cellular-xfera
347222
12.78¢
per minute
Spain cellular-xfera
347223
12.78¢
per minute
Spain cellular-xfera
347224
12.78¢
per minute
Spain cellular-xfera
347225
12.78¢
per minute
Spain cellular-xfera
347227
12.78¢
per minute
Spain cellular-vodafone
34600
12.78¢
per minute
Spain cellular-vodafone
346024
12.78¢
per minute
Spain cellular-vodafone
346025
12.78¢
per minute
Spain cellular-vodafone
346026
12.78¢
per minute
Spain cellular-vodafone
346027
12.78¢
per minute
Spain cellular-vodafone
346030
12.78¢
per minute
Spain cellular-vodafone
346031
12.78¢
per minute
Spain cellular-vodafone
346032
12.78¢
per minute
Spain cellular-vodafone
346033
12.78¢
per minute
Spain cellular-vodafone
346034
12.78¢
per minute
Spain cellular-vodafone
346035
12.78¢
per minute
Spain cellular-vodafone
346036
12.78¢
per minute
Spain cellular-vodafone
346037
12.78¢
per minute
Spain cellular-vodafone
346038
12.78¢
per minute
Spain cellular-vodafone
346039
12.78¢
per minute
Spain cellular-vodafone
34607
12.78¢
per minute
Spain cellular-vodafone
34610
12.78¢
per minute
Spain cellular-vodafone
346111
12.78¢
per minute
Spain cellular-vodafone
346112
12.78¢
per minute
Spain cellular-vodafone
346116
12.78¢
per minute
Spain cellular-vodafone
34617
12.78¢
per minute
Spain cellular-vodafone
34627
12.78¢
per minute
Spain cellular-vodafone
34634
12.78¢
per minute
Spain cellular-vodafone
34637
12.78¢
per minute
Spain cellular-vodafone
34647
12.78¢
per minute
Spain cellular-vodafone
34661
12.78¢
per minute
Spain cellular-vodafone
34662
12.78¢
per minute
Spain cellular-vodafone
34663
12.78¢
per minute
Spain cellular-vodafone
34664
12.78¢
per minute
Spain cellular-vodafone
34666
12.78¢
per minute
Spain cellular-vodafone
34667
12.78¢
per minute
Spain cellular-vodafone
34670
12.78¢
per minute
Spain cellular-vodafone
34671
12.78¢
per minute
Spain cellular-vodafone
34672
12.78¢
per minute
Spain cellular-vodafone
34673
12.78¢
per minute
Spain cellular-vodafone
34674
12.78¢
per minute
Spain cellular-vodafone
34677
12.78¢
per minute
Spain cellular-vodafone
34678
12.78¢
per minute
Spain cellular-vodafone
346846
12.78¢
per minute
Spain cellular-vodafone
34687
12.78¢
per minute
Spain cellular-vodafone
346886
12.78¢
per minute
Spain cellular-vodafone
346888
12.78¢
per minute
Spain cellular-vodafone
346889
12.78¢
per minute
Spain cellular-vodafone
34697
12.78¢
per minute
Spain cellular-vodafone
346981
12.78¢
per minute
Spain cellular-vodafone
346989
12.78¢
per minute
Spain cellular-vodafone
347111
12.78¢
per minute
Spain cellular-vodafone
347171
12.78¢
per minute
Spain cellular-telefonica
34630
12.78¢
per minute
Spain cellular-telefonica
34629
12.78¢
per minute
Spain cellular-telefonica
34628
12.78¢
per minute
Spain cellular-telefonica
34626
12.78¢
per minute
Spain cellular-telefonica
34620
12.78¢
per minute
Spain cellular-telefonica
34619
12.78¢
per minute
Spain cellular-telefonica
34618
12.78¢
per minute
Spain cellular-telefonica
34616
12.78¢
per minute
Spain cellular-telefonica
34609
12.78¢
per minute
Spain cellular-telefonica
34608
12.78¢
per minute
Spain cellular-telefonica
34606
12.78¢
per minute
Spain cellular-telefonica
346023
12.78¢
per minute
Spain cellular-telefonica
346022
12.78¢
per minute
Spain cellular-telefonica
346021
12.78¢
per minute
Spain cellular-telefonica
346012
12.78¢
per minute
Spain cellular-telefonica
346011
12.78¢
per minute
Spain cellular-telefonica
346010
12.78¢
per minute
Spain cellular-telefonica
34636
12.78¢
per minute
Spain cellular-telefonica
34638
12.78¢
per minute
Spain cellular-telefonica
34639
12.78¢
per minute
Spain cellular-telefonica
346422
12.78¢
per minute
Spain cellular-telefonica
346423
12.78¢
per minute
Spain cellular-telefonica
346424
12.78¢
per minute
Spain cellular-telefonica
346426
12.78¢
per minute
Spain cellular-telefonica
346427
12.78¢
per minute
Spain cellular-telefonica
346428
12.78¢
per minute
Spain cellular-telefonica
346429
12.78¢
per minute
Spain cellular-telefonica
34646
12.78¢
per minute
Spain cellular-telefonica
34648
12.78¢
per minute
Spain cellular-telefonica
34649
12.78¢
per minute
Spain cellular-telefonica
34650
12.78¢
per minute
Spain cellular-telefonica
34659
12.78¢
per minute
Spain cellular-telefonica
34660
12.78¢
per minute
Spain cellular-telefonica
346686
12.78¢
per minute
Spain cellular-telefonica
346688
12.78¢
per minute
Spain cellular-telefonica
34669
12.78¢
per minute
Spain cellular-telefonica
34676
12.78¢
per minute
Spain cellular-telefonica
34679
12.78¢
per minute
Spain cellular-telefonica
34680
12.78¢
per minute
Spain cellular-telefonica
346810
12.78¢
per minute
Spain cellular-telefonica
346811
12.78¢
per minute
Spain cellular-telefonica
346812
12.78¢
per minute
Spain cellular-telefonica
346813
12.78¢
per minute
Spain cellular-telefonica
346814
12.78¢
per minute
Spain cellular-telefonica
346815
12.78¢
per minute
Spain cellular-telefonica
34682
12.78¢
per minute
Spain cellular-telefonica
34683
12.78¢
per minute
Spain cellular-telefonica
346840
12.78¢
per minute
Spain cellular-telefonica
346841
12.78¢
per minute
Spain cellular-telefonica
34686
12.78¢
per minute
Spain cellular-telefonica
34689
12.78¢
per minute
Spain cellular-telefonica
34690
12.78¢
per minute
Spain cellular-telefonica
34696
12.78¢
per minute
Spain cellular-telefonica
34699
12.78¢
per minute
Spain cellular-telefonica
347170
12.78¢
per minute
Spain cellular-telefonica
347177
12.78¢
per minute
Spain cellular-orange
346016
12.78¢
per minute
Spain cellular-orange
34605
12.78¢
per minute
Spain cellular-orange
34615
12.78¢
per minute
Spain cellular-orange
34625
12.78¢
per minute
Spain cellular-orange
34632
12.78¢
per minute
Spain cellular-orange
34635
12.78¢
per minute
Spain cellular-orange
346400
12.78¢
per minute
Spain cellular-orange
346401
12.78¢
per minute
Spain cellular-orange
346403
12.78¢
per minute
Spain cellular-orange
346440
12.78¢
per minute
Spain cellular-orange
346441
12.78¢
per minute
Spain cellular-orange
346442
12.78¢
per minute
Spain cellular-orange
346443
12.78¢
per minute
Spain cellular-orange
346444
12.78¢
per minute
Spain cellular-orange
346445
12.78¢
per minute
Spain cellular-orange
346446
12.78¢
per minute
Spain cellular-orange
346447
12.78¢
per minute
Spain cellular-orange
34645
12.78¢
per minute
Spain cellular-orange
34651
12.78¢
per minute
Spain cellular-orange
34652
12.78¢
per minute
Spain cellular-orange
34653
12.78¢
per minute
Spain cellular-orange
34654
12.78¢
per minute
Spain cellular-orange
34655
12.78¢
per minute
Spain cellular-orange
34656
12.78¢
per minute
Spain cellular-orange
34657
12.78¢
per minute
Spain cellular-orange
34658
12.78¢
per minute
Spain cellular-orange
34665
12.78¢
per minute
Spain cellular-orange
346681
12.78¢
per minute
Spain cellular-orange
346685
12.78¢
per minute
Spain cellular-orange
34675
12.78¢
per minute
Spain cellular-orange
34685
12.78¢
per minute
Spain cellular-orange
346880
12.78¢
per minute
Spain cellular-orange
346881
12.78¢
per minute
Spain cellular-orange
346882
12.78¢
per minute
Spain cellular-orange
346883
12.78¢
per minute
Spain cellular-orange
346884
12.78¢
per minute
Spain cellular-orange
346885
12.78¢
per minute
Spain cellular-orange
34691
12.78¢
per minute
Spain cellular-orange
34692
12.78¢
per minute
Spain cellular-orange
34693
12.78¢
per minute
Spain cellular-orange
34695
12.78¢
per minute
Spain cellular-orange
346980
12.78¢
per minute
Spain cellular-orange
346982
12.78¢
per minute
Spain cellular-orange
346983
12.78¢
per minute
Spain cellular-orange
346984
12.78¢
per minute
Spain cellular-orange
346985
12.78¢
per minute
Spain cellular-orange
346986
12.78¢
per minute
Spain cellular-orange
346987
12.78¢
per minute
Spain cellular-orange
346988
12.78¢
per minute
Spain cellular-orange
347477
12.78¢
per minute
Spain cellular-orange
347478
12.78¢
per minute
Spain cellular
347
12.78¢
per minute
---
Making cheap calls to Spain has never been easier! Call another country: