Cheap calls to Slovenia with premium quality

Cheap international calls to SLOVENIA

Local time in Ljubljana is 10:03 pm Wednesday.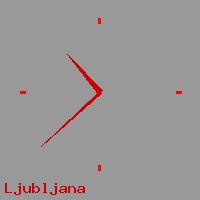 Make cheap International calls to Slovenia from 27.5 cents per minute with no connection fee, no hidden cost and no contract. You simply dial from your sip/VoIP phone to call your friends and family members in Slovenia. With ClicknCall you can drastically reduce your international calling expense and save. You don't even need any Internet connection to make cheap calls to Slovenia! You can use it just like a phone calling card by calling the local access numbers or the global access numbers.
---
You can make cheap international calls to Slovenia from Australia using our best quality VoIP services or use it just like an old-fashion calling card without any Internet connection.


Only 5 cents per SMS message sent to Slovenia mobiles from your web browser.
---
Call rates to Slovenia

Destination
Prefix
Rate (AUD)
Charge Unit
Slovenia - landlines
3861
27.5 cents
per minute
Slovenia - landlines
3862
27.5 cents
per minute
Slovenia - landlines
3863
27.5 cents
per minute
Slovenia - landlines
3865
27.5 cents
per minute
Slovenia - landlines
3867
27.5 cents
per minute
Slovenia
3868
27.5 cents
per minute
Slovenia - landlines
38645
27.5 cents
per minute
Slovenia - fixed olo1
3861320
37.2 cents
per minute
Slovenia - fixed olo1
3861330
37.2 cents
per minute
Slovenia - fixed olo1
3861400
37.2 cents
per minute
Slovenia - fixed olo1
3861401
37.2 cents
per minute
Slovenia - fixed olo1
3861620
37.2 cents
per minute
Slovenia - fixed olo1
3862620
37.2 cents
per minute
Slovenia - fixed olo1
3862621
37.2 cents
per minute
Slovenia - fixed olo1
3863620
37.2 cents
per minute
Slovenia - fixed olo1
3864620
37.2 cents
per minute
Slovenia - fixed olo1
3865620
37.2 cents
per minute
Slovenia - fixed olo1
3865968
37.2 cents
per minute
Slovenia - fixed olo1
3865969
37.2 cents
per minute
Slovenia - fixed olo1
3867620
37.2 cents
per minute
Slovenia - fixed olo1
386833
37.2 cents
per minute
Slovenia - fixed olo1
3869812
37.2 cents
per minute
Slovenia - fixed olo1
3869818
37.2 cents
per minute
Slovenia - fixed olo1
3861600
37.2 cents
per minute
Slovenia - fixed olo1
3861601
37.2 cents
per minute
Slovenia - fixed olo1
3861810
37.2 cents
per minute
Slovenia - fixed olo1
3862600
37.2 cents
per minute
Slovenia - fixed olo1
3862820
37.2 cents
per minute
Slovenia - fixed olo1
3863600
37.2 cents
per minute
Slovenia - fixed olo1
3863830
37.2 cents
per minute
Slovenia - fixed olo1
3864600
37.2 cents
per minute
Slovenia - fixed olo1
3864840
37.2 cents
per minute
Slovenia - fixed olo1
3865600
37.2 cents
per minute
Slovenia - fixed olo1
3865850
37.2 cents
per minute
Slovenia - fixed olo1
386591
37.2 cents
per minute
Slovenia - fixed olo1
3865923
37.2 cents
per minute
Slovenia - fixed olo1
3865924
37.2 cents
per minute
Slovenia - fixed olo1
3865925
37.2 cents
per minute
Slovenia - fixed olo1
386597
37.2 cents
per minute
Slovenia - fixed olo1
3867600
37.2 cents
per minute
Slovenia - fixed olo1
3867870
37.2 cents
per minute
Slovenia - fixed olo1
3868160
37.2 cents
per minute
Slovenia - fixed olo1
3868161
37.2 cents
per minute
Slovenia - fixed olo1
3868162
37.2 cents
per minute
Slovenia - fixed olo1
3868188
37.2 cents
per minute
Slovenia - fixed olo1
3868228
37.2 cents
per minute
Slovenia - fixed olo1
386838
37.2 cents
per minute
Slovenia - fixed olo2
3861777
51.2 cents
per minute
Slovenia - fixed olo2
3862444
51.2 cents
per minute
Slovenia - fixed olo2
3862707
51.2 cents
per minute
Slovenia - fixed olo2
3863777
51.2 cents
per minute
Slovenia - fixed olo2
3864777
51.2 cents
per minute
Slovenia - fixed olo2
3865777
51.2 cents
per minute
Slovenia - fixed olo2
3865920
51.2 cents
per minute
Slovenia - fixed olo2
3865921
51.2 cents
per minute
Slovenia - fixed olo2
3865922
51.2 cents
per minute
Slovenia - fixed olo2
3867777
51.2 cents
per minute
Slovenia - fixed olo2
3868181
51.2 cents
per minute
Slovenia - fixed olo2
3868288
51.2 cents
per minute
Slovenia - fixed olo2
3869804
51.2 cents
per minute
Slovenia - fixed olo2
3869809
51.2 cents
per minute
Slovenia - fixed olo2
3869813
51.2 cents
per minute
Slovenia - fixed olo2
3869816
51.2 cents
per minute
Slovenia - fixed olo3
386590
51.2 cents
per minute
Slovenia - fixed olo3
386593
51.2 cents
per minute
Slovenia - fixed olo3
386594
51.2 cents
per minute
Slovenia - fixed olo3
386595
51.2 cents
per minute
Slovenia - fixed olo3
3868227
51.2 cents
per minute
Slovenia - fixed olo3
3868280
51.2 cents
per minute
Slovenia - fixed olo3
3868281
51.2 cents
per minute
Slovenia - fixed olo3
3868282
51.2 cents
per minute
Slovenia - fixed olo3
3869805
51.2 cents
per minute
Slovenia - fixed olo3
3869806
51.2 cents
per minute
Slovenia - fixed olo3
3869810
51.2 cents
per minute
Slovenia - fixed olo3
3869815
51.2 cents
per minute
Slovenia - fixed olo3
3869819
51.2 cents
per minute
Slovenia - fixed olo3
3869820
51.2 cents
per minute
Slovenia - fixed olo3
3869824
51.2 cents
per minute
Slovenia - fixed olo3
3869826
51.2 cents
per minute
Slovenia - fixed olo3
3869827
51.2 cents
per minute
Slovenia - alternative networks a
38659
57 cents
per minute
Slovenia - mobiles
38640
63.6 cents
per minute
Slovenia - mobiles
38631
63.6 cents
per minute
Slovenia - mobiles
38641
63.6 cents
per minute
Slovenia - mobiles
38651
63.6 cents
per minute
Slovenia - mobiles
38670
63.6 cents
per minute
Slovenia - mobiles ipko
38643
63.6 cents
per minute
Slovenia - mobiles ipko
38649
63.6 cents
per minute
Slovenia - mobiles
38620
63.6 cents
per minute
Slovenia - mobiles
38621
63.6 cents
per minute
Slovenia - mobiles
38650
63.6 cents
per minute
Slovenia - mobiles
38660
63.6 cents
per minute
Slovenia - mobiles
38664
63.6 cents
per minute
Slovenia - mobiles
38665
63.6 cents
per minute
Slovenia - mobiles
38666
63.6 cents
per minute
Slovenia - mobiles
38667
63.6 cents
per minute
Slovenia - mobiles
38669
63.6 cents
per minute
Slovenia - mobiles
38671
63.6 cents
per minute
Slovenia - mobiles
3866555
63.6 cents
per minute
Slovenia - mobiles
3869800
63.6 cents
per minute
Slovenia - mobiles
3869803
63.6 cents
per minute
Slovenia - mobiles
3869817
63.6 cents
per minute
Slovenia - mobiles
3869822
63.6 cents
per minute
Slovenia - mobiles
3866560
63.6 cents
per minute
Slovenia - mobiles
38630
63.6 cents
per minute
Slovenia - mobiles
38668
63.6 cents
per minute
Slovenia - mobiles
3869801
63.6 cents
per minute
Slovenia - mobiles
386696
63.6 cents
per minute
Slovenia - mobiles
386699
63.6 cents
per minute
Slovenia - mobiles
38664
63.6 cents
per minute
Slovenia - mobiles
3869814
63.6 cents
per minute
Slovenia - mobiles
3869802
63.6 cents
per minute
Slovenia - mobiles
3869807
63.6 cents
per minute
---
Making cheap calls to Slovenia has never been easier! Call another country: