Cheap calls to Peru with premium quality

Cheap international calls to PERU

Local time in Lima is 4:37 am Monday.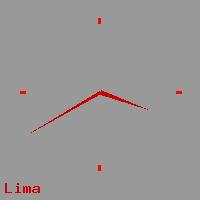 Make cheap International calls to Peru from 20 cents per call with no connection fee, no hidden cost and no contract. You simply dial from your sip phone to call your friends or family members in Peru. With ClicknCall you can drastically reduce your international calling cost. You don't even need any Internet connection to make cheap calls to Peru!
---
You can make cheap international calls to Peru from Australia with high quality.

Only 10¢ per SMS message sent to Peru mobile from your PC.
---
Call rates to Peru

Destination
Prefix
Rate (AUD)
Charge Unit
Peru - mobiles
519
25.69¢
per minute
Peru - landlines
5184
20¢
per call
Peru - landlines
5164
20¢
per call
Peru - landlines
5134
20¢
per call
Peru - landlines
5174
20¢
per call
Peru - landlines
5154
20¢
per call
Peru - landlines
5144
20¢
per call
Peru - lima
5114
20¢
per call
Peru - lima
5115
20¢
per call
Peru - lima
5116
20¢
per call
Peru - lima
5117
20¢
per call
Peru - lima
5110
20¢
per call
Peru - lima
5111
20¢
per call
Peru - lima
5112
20¢
per call
Peru - lima
5113
20¢
per call
Peru - mobiles
51629
25.69¢
per minute
Peru - mobiles
51729
25.69¢
per minute
Peru - mobiles
51679
25.69¢
per minute
Peru - mobiles
51669
25.69¢
per minute
Peru - mobiles
51659
25.69¢
per minute
Peru - mobiles
51769
25.69¢
per minute
Peru - mobiles
51749
25.69¢
per minute
Peru - mobiles
51739
25.69¢
per minute
Peru - mobiles
51849
25.69¢
per minute
Peru - mobiles
51839
25.69¢
per minute
Peru - mobiles
51829
25.69¢
per minute
Peru - mobiles
51639
25.69¢
per minute
Peru - mobiles
51649
25.69¢
per minute
Peru - mobiles
51439
25.69¢
per minute
Peru - mobiles
51429
25.69¢
per minute
Peru - mobiles
51419
25.69¢
per minute
Peru - mobiles
5119
25.69¢
per minute
Peru - mobiles
51529
25.69¢
per minute
Peru - mobiles
51519
25.69¢
per minute
Peru - mobiles
51449
25.69¢
per minute
Peru - mobiles
51619
25.69¢
per minute
Peru - mobiles
51569
25.69¢
per minute
Peru - mobiles
51549
25.69¢
per minute
Peru - mobiles
51539
25.69¢
per minute
Peru - mobiles
5119945
25.69¢
per minute
Peru - mobiles
5119944
25.69¢
per minute
Peru - mobiles
511985
25.69¢
per minute
Peru - mobiles
511995
25.69¢
per minute
Peru - mobiles
5119989
25.69¢
per minute
Peru - mobiles
5119988
25.69¢
per minute
Peru - mobiles
5119987
25.69¢
per minute
Peru - mobiles
5119986
25.69¢
per minute
Peru - mobiles
5119985
25.69¢
per minute
Peru - mobiles
5119984
25.69¢
per minute
Peru - mobiles
5119980
25.69¢
per minute
Peru - mobiles
5119803
25.69¢
per minute
Peru - mobiles
5119802
25.69¢
per minute
Peru - mobiles
5119801
25.69¢
per minute
Peru - mobiles
511999
25.69¢
per minute
Peru - mobiles
511996
25.69¢
per minute
Peru - mobiles
511990
25.69¢
per minute
Peru - mobiles
511988
25.69¢
per minute
Peru - mobiles
511945
25.69¢
per minute
Peru - mobiles
5119750
25.69¢
per minute
Peru - mobiles
5119751
25.69¢
per minute
Peru - mobiles
5119752
25.69¢
per minute
Peru - mobiles
5119753
25.69¢
per minute
Peru - mobiles
5119754
25.69¢
per minute
Peru - mobiles
5119755
25.69¢
per minute
Peru - mobiles
5119734
25.69¢
per minute
Peru - mobiles
5119733
25.69¢
per minute
Peru - mobiles
5119732
25.69¢
per minute
Peru - mobiles
5119731
25.69¢
per minute
Peru - mobiles
5119730
25.69¢
per minute
Peru - mobiles
5119735
25.69¢
per minute
Peru - mobiles
5119736
25.69¢
per minute
Peru - mobiles
5119737
25.69¢
per minute
Peru - mobiles
5119739
25.69¢
per minute
Peru - mobiles
5119738
25.69¢
per minute
Peru - mobiles
5119949
25.69¢
per minute
Peru - mobiles
5119948
25.69¢
per minute
Peru - mobiles
5119947
25.69¢
per minute
Peru - mobiles
5119946
25.69¢
per minute
Peru - mobiles
5119943
25.69¢
per minute
Peru - mobiles
511993
25.69¢
per minute
Peru - mobiles
511992
25.69¢
per minute
Peru - mobiles
511991
25.69¢
per minute
Peru - mobiles
511997
25.69¢
per minute
Peru - mobiles
511989
25.69¢
per minute
Peru - mobiles
511987
25.69¢
per minute
Peru - mobiles
511986
25.69¢
per minute
Peru - mobiles
5119804
25.69¢
per minute
Peru - mobiles
5119805
25.69¢
per minute
Peru - mobiles
5119806
25.69¢
per minute
Peru - mobiles
5119809
25.69¢
per minute
Peru - mobiles
5119808
25.69¢
per minute
Peru - mobiles
5119807
25.69¢
per minute
---
Making cheap calls to Peru has never been easier! Call another country: