Cheap calls to Pakistan with premium quality

Cheap international calls to PAKISTAN

Local time in Karachi is 2:28 am Thursday.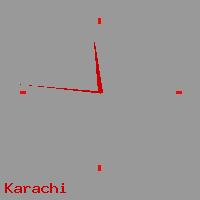 Make cheap International calls to Pakistan from 12.5 cents per minute with no connection fee, no hidden cost and no contract. You simply dial from your sip/VoIP phone to call your friends and family members in Pakistan. With ClicknCall you can drastically reduce your international calling expense and save. You don't even need any Internet connection to make cheap calls to Pakistan! You can use it just like a phone calling card by calling the local access numbers or the global access numbers.
---
You can make cheap international calls to Pakistan from Australia using our best quality VoIP services or use it just like an old-fashion calling card without any Internet connection.


Only 5 cents per SMS message sent to Pakistan mobiles from your web browser.
---
Call rates to Pakistan

Destination
Prefix
Rate (AUD)
Charge Unit
Pakistan karachi
9221
12.5 cents
per minute
Pakistan islamabad
9251
12.5 cents
per minute
Pakistan lahore
9242
12.5 cents
per minute
Pakistan mobile
923
12.5 cents
per minute
Pakistan - all
92
12.5 cents
per minute
---
Making cheap calls to Pakistan has never been easier! Call another country:
---
Making cheap calls to Pakistan:
We have the cheapest international rate to call Pakistan. There is absolutely no hidden charges with live call history displayed on our website. We use premium connection for all calls to Pakistan so this is the best value international phone call service to Pakistan.
How to call Pakistan
When you make international calls to Pakistan you don't have to include 0011.
92 - country code for Pakistan
area code - 2 - 3 digits
phone number - 6 - 7 digits; area code + number total 9 digits
Some of the area codes in Pakistan:
| | | | | | |
| --- | --- | --- | --- | --- | --- |
| Bahawalpur | 62 | Karachi | 21 | Pakpattan | 457 |
| Chitral | 943 | Kasur | 49 | Quetta | 81 |
| Dera Ghazi Khan | 64 | Lahore | 42 | Rahim Yar Khan | 68 |
| Faisalabad | 41 | Larkana | 74 | Rajanpur | 604 |
| Gujranwala | 55 | Mardan | 937 | Sahiwal | 40 |
| Gujrat | 53 | Mirpur Khas | 233 | Sargodha | 48 |
| Hyderabad | 22 | Multan | 61 | Sheikhupura | 56 |
| Islamabad | 51 | Muzaffargarh | 66 | Sialkot | 52 |
| Jhang | 47 | Nawabshah | 244 | Sukkur | 71 |
| Kalat | 844 | Okara | 44 | Toba Tek Singh | 46 |
---
Pakistan Telecommunications
Pakistan Telecommunication Company Limited (PTCL) is the largest telecommunication company in Pakistan. This company provides telephony services to the nation and still holds the status of backbone for country's telecommunication infrastructure despite arrival of a dozen other telcos including telecom giants like Telenor and China Mobile . The company consists of around 2000 telephone exchanges across country providing largest fixed line network. GSM, CDMA and Internet are other resources of PTCL, making it a gigantic organization. The Government of Pakistan sold 26% shares and control of the company to Etisalat in 2006. The Government of Pakistan retained 62% of the shares while the remaining 12% are held by the general public.
PTCL is also part of the consortium of three major Submarine communication cable networks: SEA-ME-WE 3, SEA-ME-WE 4 and I-ME-WE. In addition to wireline line operations, PTCL also provides fixed line service through its countrywide CDMA based WLL (Wireless Local Loop) network, under the Vfone brand name. In the cellular segment, the second largest cellular provider in Pakistan, Ufone, is also a wholly owned subsidiary of PTCL.
From the beginnings of Posts & Telegraph Department in 1947 and establishment of Pakistan Telephone & Telegraph Department in 1962, PTCL has been a major player in telecommunication in Pakistan.
Pakistan Telecommunication Corporation (PTC) took over operations and functions from Pakistan Telephone and Telegraph Department under Pakistan Telecommunication Corporation Act 1991. This coincided with the Government's competitive policy, encouraging private sector participation and resulting in award of licenses for cellular, card-operated pay-phones, paging and, lately, data communication services.
Pursuing a progressive policy, the Government in 1991, announced its plans to privatize PTCL, and in 1994 issued six million vouchers exchangeable into 600 million shares of the would-be PTCL in two separate placements. Each had a par value of Rs. 10 per share. These vouchers were converted into PTCL shares in mid-1996.
In 1995, Pakistan Telecommunication (Reorganization) Ordinance formed the basis for PTCL monopoly over basic telephony in the country. The provisions of the Ordinance were lent permanence in October 1996 through Pakistan Telecommunication (Reorganization) Act. The same year, Pakistan Telecommunication Company Limited was formed and listed on all stock exchanges of Pakistan
PTCL launched its mobile and data services subsidiaries in 2001 by the name of Ufone and PakNet respectively. None of the brands made it to the top slots in the respective competitions. Lately, however, Ufone had increased its market share in the cellular sector. The PakNet brand has effectively dissolved over the period of time. Recent DSL services launched by PTCL reflects this by the introduction of a new brand name and operation of the service being directly supervised by PTCL.
As telecommunication monopolies head towards an imminent end, services and infrastructure providers are set to face even bigger challenges. The post-monopoly era came with Pakistan\u2019s Liberalization in Telecommunication in January 2003. On the Government level, a comprehensive liberalization policy for telecoms sector is in the offering.
In 2005 Government of Pakistan decided to sell 26 percent of this company to some private corporation. There were three participants in the bet for privatization of PTCL. Etisalat, a Dubai based company was able to get the shares with a large margin in the bet. Government's plan of privatizing the corporation were not welcomed in all circles; countrywide protests and strikes were help by PTCL workers. They disrupted phone lines of institutions like Punjab University Lahore along with public sector institutions were also blocked. Military had to take over the management of all the exchanges in the country. They arrested many workers and put them behind bars. The contention between Government and employees ended with a 30% increase in the salaries of workers.
In 2009 PTCL launched its new product with the name of EVO