Cheap calls to New zealand with premium quality

Cheap international calls to NEW ZEALAND

Local time in Auckland is 10:52 am Thursday.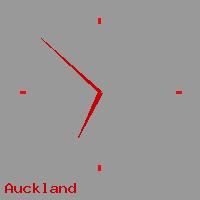 Make cheap International calls to New zealand from 2.3 cents per minute with no connection fee, no hidden cost and no contract. You simply dial from your sip/VoIP phone to call your friends and family members in New zealand. With ClicknCall you can drastically reduce your international calling expense and save. You don't even need any Internet connection to make cheap calls to New zealand! You can use it just like a phone calling card by calling the local access numbers or the global access numbers.
---
You can make cheap international calls to New zealand from Australia using our best quality VoIP services or use it just like an old-fashion calling card without any Internet connection.


Only 5 cents per SMS message sent to New zealand mobiles from your web browser.
---
Call rates to New zealand

Destination
Prefix
Rate (AUD)
Charge Unit
New zealand
64
2.3 cents
per minute
New zealand - mobiles
642
12.1 cents
per minute
---
Making cheap calls to New zealand has never been easier! Call another country:
---
Making cheap calls to New zealand:
We have the best rates and quality if you are calling New Zealand from Australia. There is no hidden charges. You can use our service to call New Zealand just like a calling card. We have the best international calls service to New Zealand.

Calling New Zealand from Australia - How to
When calling New Zealand from Australia you don't have to include 0011
64 - country code for New Zealand
area code - 1 digit
phone number - 7 digits
Australia to New Zealand international dialing format: 64 + ? + ??? ????
Some of the New Zealand phone codes for calling New Zealand from Australia:
| | | | | | |
| --- | --- | --- | --- | --- | --- |
| Auckland | 9 | Invercargill | 3 | Rotorua | 7 |
| Christchurch | 3 | Napier | 6 | Tauranga | 7 |
| Dunedin | 3 | Nelson | 3 | Timaru | 3 |
| Hamilton | 7 | New Plymouth | 6 | Wellington | 4 |
| Howick | 9 | Palmeston North | 6 | Westport | 3 |

New Zealand telecommunications
In 1987 the New Zealand Post Office divested itself of the newly created Telecom, which was created as a state-owned enterprise (SOE) on March 31. The Government-owned Telecom Corporation was to have a commercial focus. It purchased telecommunications assets from the Post Office for NZ$3.2 billion and work began on improving the services and network. Telecom launched its 025 mobile network and TDMA mobile data network. Beginning in 1987, the New Zealand telecommunications market was progressively deregulated.
Telecom New Zealand (NZX: TEL, ASX: TEL, NYSE: NZT) is a Wellington, New Zealand-based telephone company and, through its subdivision Xtra, an internet service provider. It has been run as a publicly-traded private company since 1990. It is also New Zealand's second largest mobile operator. Telecom is one of the largest companies by value on the New Zealand Exchange (NZX). Further, it is the 39th largest telecommunications company in the OECD.
Telecom was formed in 1987 from a division of the New Zealand Post Office and privatised in 1990. The selling price was considered by some to be extremely low, given that Telecom had a monopoly of all phone lines in New Zealand at the time. There has been debate as to whether privatisation was in the best interests of the country's telecommunications infrastructure, although others consider that the capital requirements to modernise the network were better provided by private enterprise than the government.[citation needed]
On 31 March 2008, Telecom was operationally separated into three divisions under local loop unbundling initiatives by central government Telecom Retail; Telecom Wholesale; and Chorus, the network infrastructure division.