Cheap calls to Netherlands with premium quality

Cheap international calls to NETHERLANDS

Local time in Amsterdam is 2:22 am Wednesday.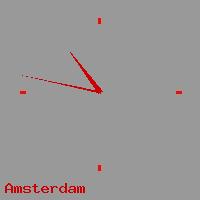 Make cheap International calls to Netherlands from 8.5 cents per minute with no connection fee, no hidden cost and no contract. You simply dial from your sip phone to call your friends or family members in Netherlands. With ClicknCall you can drastically reduce your international calling cost. You don't even need any Internet connection to make cheap calls to Netherlands!
---
You can make cheap international calls to Netherlands from Australia with high quality.

Only 10¢ per SMS message sent to Netherlands mobile from your PC.
---
Call rates to Netherlands

Destination
Prefix
Rate (AUD)
Charge Unit
Netherlands - landlines
311
8.5¢
per minute
Netherlands - landlines
312
8.5¢
per minute
Netherlands - landlines
313
8.5¢
per minute
Netherlands - landlines
314
8.5¢
per minute
Netherlands - landlines
315
8.5¢
per minute
Netherlands - landlines
317
8.5¢
per minute
Netherlands - landlines
318
8.5¢
per minute
Netherlands - mobiles
316
8.5¢
per minute
Netherlands cellular-call max
31660
8.5¢
per minute
Netherlands cellular-kpn
31683
8.5¢
per minute
Netherlands cellular-kpn
31682
8.5¢
per minute
Netherlands cellular-kpn
31665
8.5¢
per minute
Netherlands cellular-kpn
31657
8.5¢
per minute
Netherlands cellular-kpn
31653
8.5¢
per minute
Netherlands cellular-kpn
31651
8.5¢
per minute
Netherlands cellular-kpn
31630
8.5¢
per minute
Netherlands cellular-kpn
31623
8.5¢
per minute
Netherlands cellular-kpn
31622
8.5¢
per minute
Netherlands cellular-kpn
31620
8.5¢
per minute
Netherlands cellular-kpn
31613
8.5¢
per minute
Netherlands cellular-kpn
31612
8.5¢
per minute
Netherlands cellular-kpn
31610
8.5¢
per minute
Netherlands cellular-o2/telfort
31649
8.5¢
per minute
Netherlands cellular-o2/telfort
31647
8.5¢
per minute
Netherlands cellular-o2/telfort
31645
8.5¢
per minute
Netherlands cellular-o2/telfort
31644
8.5¢
per minute
Netherlands cellular-o2/telfort
31633
8.5¢
per minute
Netherlands cellular-o2/telfort
31626
8.5¢
per minute
Netherlands cellular-o2/telfort
31619
8.5¢
per minute
Netherlands cellular-o2/telfort
31617
8.5¢
per minute
Netherlands cellular-o2/telfort
31616
8.5¢
per minute
Netherlands cellular-t-mobile
31681
8.5¢
per minute
Netherlands cellular-t-mobile
316561
8.5¢
per minute
Netherlands cellular-t-mobile
316560
8.5¢
per minute
Netherlands cellular-t-mobile
31648
8.5¢
per minute
Netherlands cellular-t-mobile
31643
8.5¢
per minute
Netherlands cellular-t-mobile
31642
8.5¢
per minute
Netherlands cellular-t-mobile
31641
8.5¢
per minute
Netherlands cellular-t-mobile
31639
8.5¢
per minute
Netherlands cellular-t-mobile
31638
8.5¢
per minute
Netherlands cellular-t-mobile
31634
8.5¢
per minute
Netherlands cellular-t-mobile
316322
8.5¢
per minute
Netherlands cellular-t-mobile
316321
8.5¢
per minute
Netherlands cellular-t-mobile
316320
8.5¢
per minute
Netherlands cellular-t-mobile
31628
8.5¢
per minute
Netherlands cellular-t-mobile
31624
8.5¢
per minute
Netherlands cellular-t-mobile
31618
8.5¢
per minute
Netherlands cellular-t-mobile
31614
8.5¢
per minute
Netherlands cellular-tele2
31640
8.5¢
per minute
Netherlands cellular-tele2
31636
8.5¢
per minute
Netherlands cellular-vodafone
31655
8.5¢
per minute
Netherlands cellular-vodafone
31654
8.5¢
per minute
Netherlands cellular-vodafone
31652
8.5¢
per minute
Netherlands cellular-vodafone
31650
8.5¢
per minute
Netherlands cellular-vodafone
31646
8.5¢
per minute
Netherlands cellular-vodafone
31637
8.5¢
per minute
Netherlands cellular-vodafone
31631
8.5¢
per minute
Netherlands cellular-vodafone
31629
8.5¢
per minute
Netherlands cellular-vodafone
31627
8.5¢
per minute
Netherlands cellular-vodafone
31625
8.5¢
per minute
Netherlands cellular-vodafone
31621
8.5¢
per minute
Netherlands cellular-vodafone
31615
8.5¢
per minute
Netherlands cellular-vodafone
31611
8.5¢
per minute
Netherlands - mobiles
319701
8.5¢
per minute
Netherlands - mobiles
319700
8.5¢
per minute
Netherlands - mobiles
319702
8.5¢
per minute
---
Making cheap calls to Netherlands has never been easier! Call another country: