Cheap calls to Mexico with premium quality

Cheap international calls to MEXICO

Local time in Mexico City is 1:51 pm Wednesday.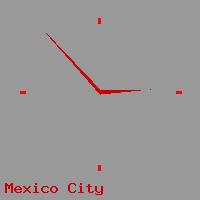 Make cheap International calls to Mexico from 2.5 cents per minute with no connection fee, no hidden cost and no contract. You simply dial from your sip/VoIP phone to call your friends and family members in Mexico. With ClicknCall you can drastically reduce your international calling expense and save. You don't even need any Internet connection to make cheap calls to Mexico! You can use it just like a phone calling card by calling the local access numbers or the global access numbers.
---
You can make cheap international calls to Mexico from Australia using our best quality VoIP services or use it just like an old-fashion calling card without any Internet connection.


Only 5 cents per SMS message sent to Mexico mobiles from your web browser.
---
Call rates to Mexico

Destination
Prefix
Rate (AUD)
Charge Unit
Mexico city
5255
2.5 cents
per minute
Mexico monterrey
5281
2.5 cents
per minute
Mexico guadalajara
5233
2.5 cents
per minute
Mexico - equal access
52757
5.05 cents
per minute
Mexico - equal access
52756
5.05 cents
per minute
Mexico - equal access
52755
5.05 cents
per minute
Mexico - equal access
52754
5.05 cents
per minute
Mexico - equal access
52753
5.05 cents
per minute
Mexico - equal access
52747
5.05 cents
per minute
Mexico - equal access
52744
5.05 cents
per minute
Mexico - equal access
52742
5.05 cents
per minute
Mexico - equal access
52741
5.05 cents
per minute
Mexico - equal access
52758
5.05 cents
per minute
Mexico - equal access
52762
5.05 cents
per minute
Mexico - equal access
52767
5.05 cents
per minute
Mexico - equal access
52786
5.05 cents
per minute
Mexico - equal access
52783
5.05 cents
per minute
Mexico - equal access
52782
5.05 cents
per minute
Mexico - equal access
52779
5.05 cents
per minute
Mexico - equal access
52777
5.05 cents
per minute
Mexico - equal access
52775
5.05 cents
per minute
Mexico - equal access
52773
5.05 cents
per minute
Mexico - equal access
52772
5.05 cents
per minute
Mexico - equal access
52771
5.05 cents
per minute
Mexico - equal access
52736
5.05 cents
per minute
Mexico - equal access
52735
5.05 cents
per minute
Mexico - equal access
52676
5.05 cents
per minute
Mexico - equal access
52669
5.05 cents
per minute
Mexico - equal access
52668
5.05 cents
per minute
Mexico - equal access
52667
5.05 cents
per minute
Mexico - equal access
52665
5.05 cents
per minute
Mexico - equal access
52664
5.05 cents
per minute
Mexico - equal access
52662
5.05 cents
per minute
Mexico - equal access
52661
5.05 cents
per minute
Mexico - equal access
52656
5.05 cents
per minute
Mexico - equal access
52686
5.05 cents
per minute
Mexico - equal access
52712
5.05 cents
per minute
Mexico - equal access
52734
5.05 cents
per minute
Mexico - equal access
52732
5.05 cents
per minute
Mexico - equal access
52728
5.05 cents
per minute
Mexico - equal access
52727
5.05 cents
per minute
Mexico - equal access
52726
5.05 cents
per minute
Mexico - equal access
52721
5.05 cents
per minute
Mexico - equal access
52715
5.05 cents
per minute
Mexico - equal access
52714
5.05 cents
per minute
Mexico - equal access
52713
5.05 cents
per minute
Mexico - equal access
52653
5.05 cents
per minute
Mexico - equal access
52722
5.05 cents
per minute
Mexico - equal access
52967
5.05 cents
per minute
Mexico - equal access
52965
5.05 cents
per minute
Mexico - equal access
52962
5.05 cents
per minute
Mexico - equal access
52961
5.05 cents
per minute
Mexico - equal access
52958
5.05 cents
per minute
Mexico - equal access
52951
5.05 cents
per minute
Mexico - equal access
52938
5.05 cents
per minute
Mexico - equal access
52922
5.05 cents
per minute
Mexico - equal access
52921
5.05 cents
per minute
Mexico - equal access
52968
5.05 cents
per minute
Mexico - equal access
52971
5.05 cents
per minute
Mexico - equal access
52222
5.05 cents
per minute
Mexico - equal access
52999
5.05 cents
per minute
Mexico - equal access
52998
5.05 cents
per minute
Mexico - equal access
52997
5.05 cents
per minute
Mexico - equal access
52993
5.05 cents
per minute
Mexico - equal access
52987
5.05 cents
per minute
Mexico - equal access
52986
5.05 cents
per minute
Mexico - equal access
52983
5.05 cents
per minute
Mexico - equal access
52981
5.05 cents
per minute
Mexico - equal access
52917
5.05 cents
per minute
Mexico - equal access
52916
5.05 cents
per minute
Mexico - equal access
52842
5.05 cents
per minute
Mexico - equal access
52841
5.05 cents
per minute
Mexico - equal access
52834
5.05 cents
per minute
Mexico - equal access
52833
5.05 cents
per minute
Mexico - equal access
52831
5.05 cents
per minute
Mexico - equal access
52829
5.05 cents
per minute
Mexico - equal access
52828
5.05 cents
per minute
Mexico - equal access
52823
5.05 cents
per minute
Mexico - equal access
52821
5.05 cents
per minute
Mexico - equal access
52844
5.05 cents
per minute
Mexico - equal access
52861
5.05 cents
per minute
Mexico - equal access
52899
5.05 cents
per minute
Mexico - equal access
52892
5.05 cents
per minute
Mexico - equal access
52891
5.05 cents
per minute
Mexico - equal access
52878
5.05 cents
per minute
Mexico - equal access
52877
5.05 cents
per minute
Mexico - equal access
52871
5.05 cents
per minute
Mexico - equal access
52868
5.05 cents
per minute
Mexico - equal access
52867
5.05 cents
per minute
Mexico - equal access
52866
5.05 cents
per minute
Mexico - equal access
52791
5.05 cents
per minute
Mexico - equal access
52646
5.05 cents
per minute
Mexico - equal access
52444
5.05 cents
per minute
Mexico - equal access
52384
5.05 cents
per minute
Mexico - equal access
52381
5.05 cents
per minute
Mexico - equal access
52378
5.05 cents
per minute
Mexico - equal access
52374
5.05 cents
per minute
Mexico - equal access
52356
5.05 cents
per minute
Mexico - equal access
52354
5.05 cents
per minute
Mexico - equal access
52353
5.05 cents
per minute
Mexico - equal access
52352
5.05 cents
per minute
Mexico - equal access
52351
5.05 cents
per minute
Mexico - equal access
52389
5.05 cents
per minute
Mexico - equal access
52392
5.05 cents
per minute
Mexico - equal access
52443
5.05 cents
per minute
Mexico - equal access
52442
5.05 cents
per minute
Mexico - equal access
52438
5.05 cents
per minute
Mexico - equal access
52436
5.05 cents
per minute
Mexico - equal access
52435
5.05 cents
per minute
Mexico - equal access
52434
5.05 cents
per minute
Mexico - equal access
52427
5.05 cents
per minute
Mexico - equal access
52415
5.05 cents
per minute
Mexico - equal access
52393
5.05 cents
per minute
Mexico - equal access
52341
5.05 cents
per minute
Mexico - equal access
52325
5.05 cents
per minute
Mexico - equal access
52271
5.05 cents
per minute
Mexico - equal access
52246
5.05 cents
per minute
Mexico - equal access
52244
5.05 cents
per minute
Mexico - equal access
52243
5.05 cents
per minute
Mexico - equal access
52241
5.05 cents
per minute
Mexico - equal access
52238
5.05 cents
per minute
Mexico - equal access
52232
5.05 cents
per minute
Mexico - equal access
52231
5.05 cents
per minute
Mexico - equal access
52229
5.05 cents
per minute
Mexico - equal access
52272
5.05 cents
per minute
Mexico - equal access
52284
5.05 cents
per minute
Mexico - equal access
52324
5.05 cents
per minute
Mexico - equal access
52322
5.05 cents
per minute
Mexico - equal access
52317
5.05 cents
per minute
Mexico - equal access
52314
5.05 cents
per minute
Mexico - equal access
52312
5.05 cents
per minute
Mexico - equal access
52311
5.05 cents
per minute
Mexico - equal access
52294
5.05 cents
per minute
Mexico - equal access
52288
5.05 cents
per minute
Mexico - equal access
52287
5.05 cents
per minute
Mexico - equal access
52228
5.05 cents
per minute
Mexico - equal access
52445
5.05 cents
per minute
Mexico - equal access
52645
5.05 cents
per minute
Mexico - equal access
52624
5.05 cents
per minute
Mexico - equal access
52623
5.05 cents
per minute
Mexico - equal access
52622
5.05 cents
per minute
Mexico - equal access
52618
5.05 cents
per minute
Mexico - equal access
52614
5.05 cents
per minute
Mexico - equal access
52612
5.05 cents
per minute
Mexico - equal access
52597
5.05 cents
per minute
Mexico - equal access
52595
5.05 cents
per minute
Mexico - equal access
52733
5.05 cents
per minute
Mexico - equal access
52625
5.05 cents
per minute
Mexico - equal access
52626
5.05 cents
per minute
Mexico - equal access
52644
5.05 cents
per minute
Mexico - equal access
52642
5.05 cents
per minute
Mexico - equal access
52641
5.05 cents
per minute
Mexico - equal access
52639
5.05 cents
per minute
Mexico - equal access
52636
5.05 cents
per minute
Mexico - equal access
52633
5.05 cents
per minute
Mexico - equal access
52632
5.05 cents
per minute
Mexico - equal access
52631
5.05 cents
per minute
Mexico - equal access
52627
5.05 cents
per minute
Mexico - equal access
52591
5.05 cents
per minute
Mexico - equal access
52498
5.05 cents
per minute
Mexico - equal access
52466
5.05 cents
per minute
Mexico - equal access
52464
5.05 cents
per minute
Mexico - equal access
52463
5.05 cents
per minute
Mexico - equal access
52462
5.05 cents
per minute
Mexico - equal access
52461
5.05 cents
per minute
Mexico - equal access
52453
5.05 cents
per minute
Mexico - equal access
52452
5.05 cents
per minute
Mexico - equal access
52451
5.05 cents
per minute
Mexico - equal access
52449
5.05 cents
per minute
Mexico - equal access
52468
5.05 cents
per minute
Mexico - equal access
52469
5.05 cents
per minute
Mexico - equal access
52472
5.05 cents
per minute
Mexico - equal access
52494
5.05 cents
per minute
Mexico - equal access
52493
5.05 cents
per minute
Mexico - equal access
52492
5.05 cents
per minute
Mexico - equal access
52488
5.05 cents
per minute
Mexico - equal access
52487
5.05 cents
per minute
Mexico - equal access
52481
5.05 cents
per minute
Mexico - equal access
52475
5.05 cents
per minute
Mexico - equal access
52474
5.05 cents
per minute
Mexico - equal access
52473
5.05 cents
per minute
Mexico - leon
52477
5.05 cents
per minute
Mexico
52
10 cents
per minute
Mexico mobiles
521
39 cents
per minute
---
Making cheap calls to Mexico has never been easier! Call another country: