Cheap calls to Lebanon with premium quality
Cheap international calls to LEBANON

Local time in Beirut is 8:49 am Sunday.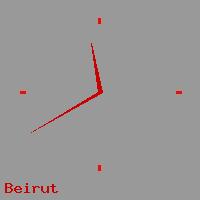 Make cheap International calls to Lebanon from 18 cents per minute with no connection fee, no hidden cost and no contract. You simply dial from your sip phone to call your friends or family members in Lebanon. With ClicknCall you can drastically reduce your international calling cost. You don't even need any Internet connection to make cheap calls to Lebanon!
---
You can make cheap international calls to Lebanon from Australia with high quality.

Only 10¢ per SMS message sent to Lebanon mobile from your PC.
---
Call rates to Lebanon

Destination
Prefix
Rate (AUD)
Charge Unit
Lebanon - mobiles
9613
29.9¢
per minute
Lebanon - mobiles
96170
29.9¢
per minute
Lebanon - mobiles
96171
29.9¢
per minute
Lebanon - beirut
9611
18¢
per minute
Lebanon - tripoli
9616
18¢
per minute
Lebanon - zahle
9618
18¢
per minute
Lebanon
961
18¢
per minute
---
Making cheap calls to Lebanon has never been easier! Call another country:
---
Making cheap calls to Lebanon:
We offer the best quality phone service for you to call your firends and families in Beirut or anywhere else in Lebanon.
How to call Lebanon:
961 - country code for Lebanon
area code - 1 digit
phone number - 6 digits
Australia to Lebanon international dialing format : 961 + ? + ??? ???
Telecommunications in Lebanon
There are 700,000 telephone main lines, and 600,000 mobile telephones in use in Lebanon. The telephone system experienced severe damage during the civil war, but was completely rebuilt and revamped. The systems that provide the infrastructure for the telephone network are, domestically, microwave radio relay stations and cables, and internationally, two Intelsat satellite-earth stations, a coaxial cable, and microwave radio relay station to Syria and three submarine coaxial cables.