Cheap calls to Korea south with premium quality

Cheap international calls to KOREA SOUTH

Local time in Seoul is 6:48 am Thursday.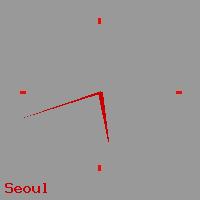 Make cheap International calls to Korea south from 4.5 cents per minute with no connection fee, no hidden cost and no contract. You simply dial from your sip/VoIP phone to call your friends and family members in Korea south. With ClicknCall you can drastically reduce your international calling expense and save. You don't even need any Internet connection to make cheap calls to Korea south! You can use it just like a phone calling card by calling the local access numbers or the global access numbers.
---
You can make cheap international calls to Korea south from Australia using our best quality VoIP services or use it just like an old-fashion calling card without any Internet connection.


Only 5 cents per SMS message sent to Korea south mobiles from your web browser.
---
Call rates to Korea south

Destination
Prefix
Rate (AUD)
Charge Unit
Korea south - landlines
828
4.5 cents
per minute
Korea south - landlines
827
4.5 cents
per minute
Korea south - landlines
826
4.5 cents
per minute
Korea south - landlines
825
4.5 cents
per minute
Korea south - landlines
824
4.5 cents
per minute
Korea south - landlines
823
4.5 cents
per minute
Korea south - landlines
822
4.5 cents
per minute
Korea south - mobiles
8218
6.58 cents
per minute
Korea south - mobiles
8219
6.58 cents
per minute
Korea south - mobiles
8210
6.58 cents
per minute
Korea south - mobiles
8217
6.58 cents
per minute
Korea south - mobiles
8216
6.58 cents
per minute
Korea south - mobiles
8215
6.58 cents
per minute
Korea south - mobiles
8214
6.58 cents
per minute
Korea south - mobiles
8213
6.58 cents
per minute
Korea south - mobiles
8212
6.58 cents
per minute
Korea south - mobiles
8211
6.58 cents
per minute
---
Making cheap calls to Korea south has never been easier! Call another country: