Cheap calls to Jamaica with premium quality
Cheap international calls to JAMAICA

Local time in Jamaica is 8:20 am Monday.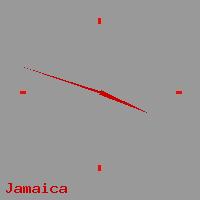 Make cheap International calls to Jamaica from 19.86 cents per minute with no connection fee, no hidden cost and no contract. You simply dial from your sip phone to call your friends or family members in Jamaica. With ClicknCall you can drastically reduce your international calling cost. You don't even need any Internet connection to make cheap calls to Jamaica!
---
You can make cheap international calls to Jamaica from Australia with high quality.

Only 10¢ per SMS message sent to Jamaica mobile from your PC.
---
Call rates to Jamaica

Destination
Prefix
Rate (AUD)
Charge Unit
Jamaica
1876
19.86¢
per minute
Jamaica - mobiles
187621
35.42¢
per minute
Jamaica - mobiles
18763
35.42¢
per minute
Jamaica - mobiles
18764
35.42¢
per minute
Jamaica - mobiles
18765
35.42¢
per minute
Jamaica - mobiles
18767
35.42¢
per minute
Jamaica - mobiles
18768
35.42¢
per minute
Jamaica - mobiles
18769
35.42¢
per minute
Jamaica - mobiles digicel
1876566
35.42¢
per minute
Jamaica - mobiles digicel
1876567
35.42¢
per minute
Jamaica - mobiles digicel
1876568
35.42¢
per minute
Jamaica - mobiles digicel
1876569
35.42¢
per minute
Jamaica - mobiles digicel
1876570
35.42¢
per minute
Jamaica - mobiles digicel
1876571
35.42¢
per minute
Jamaica - mobiles digicel
1876565
35.42¢
per minute
Jamaica - mobiles digicel
1876564
35.42¢
per minute
Jamaica - mobiles digicel
1876562
35.42¢
per minute
Jamaica - mobiles digicel
1876561
35.42¢
per minute
Jamaica - mobiles digicel
1876560
35.42¢
per minute
Jamaica - mobiles digicel
1876509
35.42¢
per minute
Jamaica - mobiles digicel
1876508
35.42¢
per minute
Jamaica - mobiles digicel
1876507
35.42¢
per minute
Jamaica - mobiles digicel
1876506
35.42¢
per minute
Jamaica - mobiles digicel
1876572
35.42¢
per minute
Jamaica - mobiles digicel
1876573
35.42¢
per minute
Jamaica - mobiles digicel
1876587
35.42¢
per minute
Jamaica - mobiles digicel
1876586
35.42¢
per minute
Jamaica - mobiles digicel
1876585
35.42¢
per minute
Jamaica - mobiles digicel
1876584
35.42¢
per minute
Jamaica - mobiles digicel
1876583
35.42¢
per minute
Jamaica - mobiles digicel
1876582
35.42¢
per minute
Jamaica - mobiles digicel
1876581
35.42¢
per minute
Jamaica - mobiles digicel
1876580
35.42¢
per minute
Jamaica - mobiles digicel
1876579
35.42¢
per minute
Jamaica - mobiles digicel
1876578
35.42¢
per minute
Jamaica - mobiles digicel
1876577
35.42¢
per minute
Jamaica - mobiles digicel
1876576
35.42¢
per minute
Jamaica - mobiles digicel
1876575
35.42¢
per minute
Jamaica - mobiles digicel
1876574
35.42¢
per minute
Jamaica - mobiles digicel
1876588
35.42¢
per minute
Jamaica - mobiles digicel
1876505
35.42¢
per minute
Jamaica - mobiles digicel
1876475
35.42¢
per minute
Jamaica - mobiles digicel
1876474
35.42¢
per minute
Jamaica - mobiles digicel
1876473
35.42¢
per minute
Jamaica - mobiles digicel
1876472
35.42¢
per minute
Jamaica - mobiles digicel
1876471
35.42¢
per minute
Jamaica - mobiles digicel
1876470
35.42¢
per minute
Jamaica - mobiles digicel
1876469
35.42¢
per minute
Jamaica - mobiles digicel
1876468
35.42¢
per minute
Jamaica - mobiles digicel
1876467
35.42¢
per minute
Jamaica - mobiles digicel
1876466
35.42¢
per minute
Jamaica - mobiles digicel
1876465
35.42¢
per minute
Jamaica - mobiles digicel
1876464
35.42¢
per minute
Jamaica - mobiles digicel
1876463
35.42¢
per minute
Jamaica - mobiles digicel
1876462
35.42¢
per minute
Jamaica - mobiles digicel
1876476
35.42¢
per minute
Jamaica - mobiles digicel
1876477
35.42¢
per minute
Jamaica - mobiles digicel
1876504
35.42¢
per minute
Jamaica - mobiles digicel
1876503
35.42¢
per minute
Jamaica - mobiles digicel
1876489
35.42¢
per minute
Jamaica - mobiles digicel
1876488
35.42¢
per minute
Jamaica - mobiles digicel
1876487
35.42¢
per minute
Jamaica - mobiles digicel
1876486
35.42¢
per minute
Jamaica - mobiles digicel
1876485
35.42¢
per minute
Jamaica - mobiles digicel
1876484
35.42¢
per minute
Jamaica - mobiles digicel
1876483
35.42¢
per minute
Jamaica - mobiles digicel
1876482
35.42¢
per minute
Jamaica - mobiles digicel
1876481
35.42¢
per minute
Jamaica - mobiles digicel
1876480
35.42¢
per minute
Jamaica - mobiles digicel
1876479
35.42¢
per minute
Jamaica - mobiles digicel
1876478
35.42¢
per minute
Jamaica - mobiles digicel
1876461
35.42¢
per minute
Jamaica - mobiles digicel
1876589
35.42¢
per minute
Jamaica - mobiles digicel
1876899
35.42¢
per minute
Jamaica - mobiles digicel
1876882
35.42¢
per minute
Jamaica - mobiles digicel
1876881
35.42¢
per minute
Jamaica - mobiles digicel
1876880
35.42¢
per minute
Jamaica - mobiles digicel
1876879
35.42¢
per minute
Jamaica - mobiles digicel
1876878
35.42¢
per minute
Jamaica - mobiles digicel
1876877
35.42¢
per minute
Jamaica - mobiles digicel
1876876
35.42¢
per minute
Jamaica - mobiles digicel
1876875
35.42¢
per minute
Jamaica - mobiles digicel
1876874
35.42¢
per minute
Jamaica - mobiles digicel
1876873
35.42¢
per minute
Jamaica - mobiles digicel
1876872
35.42¢
per minute
Jamaica - mobiles digicel
1876871
35.42¢
per minute
Jamaica - mobiles digicel
1876870
35.42¢
per minute
Jamaica - mobiles digicel
1876869
35.42¢
per minute
Jamaica - mobiles digicel
1876883
35.42¢
per minute
Jamaica - mobiles digicel
1876884
35.42¢
per minute
Jamaica - mobiles digicel
1876898
35.42¢
per minute
Jamaica - mobiles digicel
1876897
35.42¢
per minute
Jamaica - mobiles digicel
1876896
35.42¢
per minute
Jamaica - mobiles digicel
1876895
35.42¢
per minute
Jamaica - mobiles digicel
1876894
35.42¢
per minute
Jamaica - mobiles digicel
1876893
35.42¢
per minute
Jamaica - mobiles digicel
1876892
35.42¢
per minute
Jamaica - mobiles digicel
1876891
35.42¢
per minute
Jamaica - mobiles digicel
1876890
35.42¢
per minute
Jamaica - mobiles digicel
1876889
35.42¢
per minute
Jamaica - mobiles digicel
1876888
35.42¢
per minute
Jamaica - mobiles digicel
1876887
35.42¢
per minute
Jamaica - mobiles digicel
1876886
35.42¢
per minute
Jamaica - mobiles digicel
1876885
35.42¢
per minute
Jamaica - mobiles digicel
1876868
35.42¢
per minute
Jamaica - mobiles digicel
1876867
35.42¢
per minute
Jamaica - mobiles digicel
1876850
35.42¢
per minute
Jamaica - mobiles digicel
1876849
35.42¢
per minute
Jamaica - mobiles digicel
1876848
35.42¢
per minute
Jamaica - mobiles digicel
1876847
35.42¢
per minute
Jamaica - mobiles digicel
1876846
35.42¢
per minute
Jamaica - mobiles digicel
1876845
35.42¢
per minute
Jamaica - mobiles digicel
1876844
35.42¢
per minute
Jamaica - mobiles digicel
1876843
35.42¢
per minute
Jamaica - mobiles digicel
1876842
35.42¢
per minute
Jamaica - mobiles digicel
1876841
35.42¢
per minute
Jamaica - mobiles digicel
1876840
35.42¢
per minute
Jamaica - mobiles digicel
1876649
35.42¢
per minute
Jamaica - mobiles digicel
1876648
35.42¢
per minute
Jamaica - mobiles digicel
1876619
35.42¢
per minute
Jamaica - mobiles digicel
1876851
35.42¢
per minute
Jamaica - mobiles digicel
1876852
35.42¢
per minute
Jamaica - mobiles digicel
1876866
35.42¢
per minute
Jamaica - mobiles digicel
1876865
35.42¢
per minute
Jamaica - mobiles digicel
1876864
35.42¢
per minute
Jamaica - mobiles digicel
1876863
35.42¢
per minute
Jamaica - mobiles digicel
1876862
35.42¢
per minute
Jamaica - mobiles digicel
1876861
35.42¢
per minute
Jamaica - mobiles digicel
1876860
35.42¢
per minute
Jamaica - mobiles digicel
1876859
35.42¢
per minute
Jamaica - mobiles digicel
1876858
35.42¢
per minute
Jamaica - mobiles digicel
1876857
35.42¢
per minute
Jamaica - mobiles digicel
1876856
35.42¢
per minute
Jamaica - mobiles digicel
1876855
35.42¢
per minute
Jamaica - mobiles digicel
1876854
35.42¢
per minute
Jamaica - mobiles digicel
1876853
35.42¢
per minute
Jamaica - mobiles digicel
1876618
35.42¢
per minute
Jamaica - mobiles digicel
1876460
35.42¢
per minute
Jamaica - mobiles digicel
1876377
35.42¢
per minute
Jamaica - mobiles digicel
1876360
35.42¢
per minute
Jamaica - mobiles digicel
1876359
35.42¢
per minute
Jamaica - mobiles digicel
1876358
35.42¢
per minute
Jamaica - mobiles digicel
1876357
35.42¢
per minute
Jamaica - mobiles digicel
1876356
35.42¢
per minute
Jamaica - mobiles digicel
1876355
35.42¢
per minute
Jamaica - mobiles digicel
1876354
35.42¢
per minute
Jamaica - mobiles digicel
1876353
35.42¢
per minute
Jamaica - mobiles digicel
1876352
35.42¢
per minute
Jamaica - mobiles digicel
1876351
35.42¢
per minute
Jamaica - mobiles digicel
1876350
35.42¢
per minute
Jamaica - mobiles digicel
1876299
35.42¢
per minute
Jamaica - mobiles digicel
1876298
35.42¢
per minute
Jamaica - mobiles digicel
1876297
35.42¢
per minute
Jamaica - mobiles digicel
1876361
35.42¢
per minute
Jamaica - mobiles digicel
1876362
35.42¢
per minute
Jamaica - mobiles digicel
1876376
35.42¢
per minute
Jamaica - mobiles digicel
1876375
35.42¢
per minute
Jamaica - mobiles digicel
1876374
35.42¢
per minute
Jamaica - mobiles digicel
1876373
35.42¢
per minute
Jamaica - mobiles digicel
1876372
35.42¢
per minute
Jamaica - mobiles digicel
1876371
35.42¢
per minute
Jamaica - mobiles digicel
1876370
35.42¢
per minute
Jamaica - mobiles digicel
1876369
35.42¢
per minute
Jamaica - mobiles digicel
1876368
35.42¢
per minute
Jamaica - mobiles digicel
1876367
35.42¢
per minute
Jamaica - mobiles digicel
1876366
35.42¢
per minute
Jamaica - mobiles digicel
1876365
35.42¢
per minute
Jamaica - mobiles digicel
1876364
35.42¢
per minute
Jamaica - mobiles digicel
1876363
35.42¢
per minute
Jamaica - mobiles digicel
1876296
35.42¢
per minute
Jamaica - mobiles digicel
1876295
35.42¢
per minute
Jamaica - mobiles digicel
1876417
35.42¢
per minute
Jamaica - mobiles digicel
1876416
35.42¢
per minute
Jamaica - mobiles digicel
1876414
35.42¢
per minute
Jamaica - mobiles digicel
1876413
35.42¢
per minute
Jamaica - mobiles digicel
1876412
35.42¢
per minute
Jamaica - mobiles digicel
1876410
35.42¢
per minute
Jamaica - mobiles digicel
1876669
35.42¢
per minute
Jamaica - mobiles digicel
1876668
35.42¢
per minute
Jamaica - mobiles digicel
1876667
35.42¢
per minute
Jamaica - mobiles digicel
1876665
35.42¢
per minute
Jamaica - mobiles digicel
1876279
35.42¢
per minute
Jamaica - mobiles digicel
1876278
35.42¢
per minute
Jamaica - mobiles digicel
1876277
35.42¢
per minute
Jamaica - mobiles digicel
1876276
35.42¢
per minute
Jamaica - mobiles digicel
1876418
35.42¢
per minute
Jamaica - mobiles digicel
1876419
35.42¢
per minute
Jamaica - mobiles digicel
1876294
35.42¢
per minute
Jamaica - mobiles digicel
1876293
35.42¢
per minute
Jamaica - mobiles digicel
1876292
35.42¢
per minute
Jamaica - mobiles digicel
1876291
35.42¢
per minute
Jamaica - mobiles digicel
1876290
35.42¢
per minute
Jamaica - mobiles digicel
1876409
35.42¢
per minute
Jamaica - mobiles digicel
1876408
35.42¢
per minute
Jamaica - mobiles digicel
1876407
35.42¢
per minute
Jamaica - mobiles digicel
1876406
35.42¢
per minute
Jamaica - mobiles digicel
1876405
35.42¢
per minute
Jamaica - mobiles digicel
1876404
35.42¢
per minute
Jamaica - mobiles digicel
1876403
35.42¢
per minute
Jamaica - mobiles digicel
1876402
35.42¢
per minute
Jamaica - mobiles digicel
1876401
35.42¢
per minute
Jamaica - mobiles digicel
1876275
35.42¢
per minute
Jamaica - mobiles digicel
1876378
35.42¢
per minute
Jamaica - mobiles digicel
1876459
35.42¢
per minute
Jamaica - mobiles digicel
1876442
35.42¢
per minute
Jamaica - mobiles digicel
1876441
35.42¢
per minute
Jamaica - mobiles digicel
1876440
35.42¢
per minute
Jamaica - mobiles digicel
1876439
35.42¢
per minute
Jamaica - mobiles digicel
1876438
35.42¢
per minute
Jamaica - mobiles digicel
1876437
35.42¢
per minute
Jamaica - mobiles digicel
1876436
35.42¢
per minute
Jamaica - mobiles digicel
1876435
35.42¢
per minute
Jamaica - mobiles digicel
1876434
35.42¢
per minute
Jamaica - mobiles digicel
1876433
35.42¢
per minute
Jamaica - mobiles digicel
1876432
35.42¢
per minute
Jamaica - mobiles digicel
1876431
35.42¢
per minute
Jamaica - mobiles digicel
1876430
35.42¢
per minute
Jamaica - mobiles digicel
1876429
35.42¢
per minute
Jamaica - mobiles digicel
1876443
35.42¢
per minute
Jamaica - mobiles digicel
1876444
35.42¢
per minute
Jamaica - mobiles digicel
1876458
35.42¢
per minute
Jamaica - mobiles digicel
1876457
35.42¢
per minute
Jamaica - mobiles digicel
1876456
35.42¢
per minute
Jamaica - mobiles digicel
1876455
35.42¢
per minute
Jamaica - mobiles digicel
1876454
35.42¢
per minute
Jamaica - mobiles digicel
1876453
35.42¢
per minute
Jamaica - mobiles digicel
1876452
35.42¢
per minute
Jamaica - mobiles digicel
1876451
35.42¢
per minute
Jamaica - mobiles digicel
1876450
35.42¢
per minute
Jamaica - mobiles digicel
1876449
35.42¢
per minute
Jamaica - mobiles digicel
1876448
35.42¢
per minute
Jamaica - mobiles digicel
1876447
35.42¢
per minute
Jamaica - mobiles digicel
1876446
35.42¢
per minute
Jamaica - mobiles digicel
1876445
35.42¢
per minute
Jamaica - mobiles digicel
1876428
35.42¢
per minute
Jamaica - mobiles digicel
1876379
35.42¢
per minute
Jamaica - mobiles digicel
1876393
35.42¢
per minute
Jamaica - mobiles digicel
1876392
35.42¢
per minute
Jamaica - mobiles digicel
1876391
35.42¢
per minute
Jamaica - mobiles digicel
1876390
35.42¢
per minute
Jamaica - mobiles digicel
1876389
35.42¢
per minute
Jamaica - mobiles digicel
1876388
35.42¢
per minute
Jamaica - mobiles digicel
1876387
35.42¢
per minute
Jamaica - mobiles digicel
1876386
35.42¢
per minute
Jamaica - mobiles digicel
1876385
35.42¢
per minute
Jamaica - mobiles digicel
1876384
35.42¢
per minute
Jamaica - mobiles digicel
1876383
35.42¢
per minute
Jamaica - mobiles digicel
1876382
35.42¢
per minute
Jamaica - mobiles digicel
1876381
35.42¢
per minute
Jamaica - mobiles digicel
1876380
35.42¢
per minute
Jamaica - mobiles digicel
1876394
35.42¢
per minute
Jamaica - mobiles digicel
1876395
35.42¢
per minute
Jamaica - mobiles digicel
1876427
35.42¢
per minute
Jamaica - mobiles digicel
1876426
35.42¢
per minute
Jamaica - mobiles digicel
1876425
35.42¢
per minute
Jamaica - mobiles digicel
1876424
35.42¢
per minute
Jamaica - mobiles digicel
1876423
35.42¢
per minute
Jamaica - mobiles digicel
1876422
35.42¢
per minute
Jamaica - mobiles digicel
1876421
35.42¢
per minute
Jamaica - mobiles digicel
1876420
35.42¢
per minute
Jamaica - mobiles digicel
1876415
35.42¢
per minute
Jamaica - mobiles digicel
1876411
35.42¢
per minute
Jamaica - mobiles digicel
1876400
35.42¢
per minute
Jamaica - mobiles digicel
1876399
35.42¢
per minute
Jamaica - mobiles digicel
1876398
35.42¢
per minute
Jamaica - mobiles digicel
1876397
35.42¢
per minute
Jamaica - mobiles digicel
1876396
35.42¢
per minute
---
Making cheap calls to Jamaica has never been easier! Call another country: