Cheap calls to Israel with premium quality
Cheap international calls to ISRAEL

Local time in Jerusalem is 11:50 am Monday.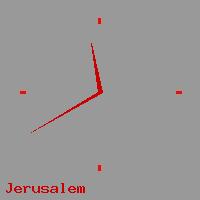 Make cheap International calls to Israel from 20 cents per call with no connection fee, no hidden cost and no contract. You simply dial from your sip phone to call your friends or family members in Israel. With ClicknCall you can drastically reduce your international calling cost. You don't even need any Internet connection to make cheap calls to Israel!
---
You can make cheap international calls to Israel from Australia with high quality.

Only 10¢ per SMS message sent to Israel mobile from your PC.
---
Call rates to Israel

Destination
Prefix
Rate (AUD)
Charge Unit
Israel - mobiles
97250
18¢
per minute
Israel - mobiles
97252
18¢
per minute
Israel - mobiles
97254
18¢
per minute
Israel - mobiles
97257
18¢
per minute
Israel - landlines
9721800
20¢
per call
Israel - landlines
9721801
20¢
per call
Israel - mobile palestine
97259
26.45¢
per minute
Israel - mobile palestine
97256
26.45¢
per minute
Israel - mobiles
9726
18¢
per minute
Israel - mobiles
97251
18¢
per minute
Israel - mobiles
97253
18¢
per minute
Israel - mobiles
97255
18¢
per minute
Israel - mobiles
97258
18¢
per minute
Israel - mobiles
9721515
18¢
per minute
Israel - mobiles
9721535
18¢
per minute
Israel - palestine
97222
26.45¢
per minute
Israel - palestine
97242
26.45¢
per minute
Israel - palestine
97282
26.45¢
per minute
Israel - palestine
97292
26.45¢
per minute
Israel - landlines
972
20¢
per call
Israel - mobiles
97205
18¢
per minute
Israel - landlines
97206
20¢
per call
Israel - palestine
972022
26.45¢
per minute
Israel - palestine
972082
26.45¢
per minute
Israel - palestine
972042
26.45¢
per minute
Israel - palestine
972092
26.45¢
per minute
Israel - mobile palestine
972056
26.45¢
per minute
Israel - mobile palestine
972059
26.45¢
per minute
Israel - mobiles
9725
18¢
per minute
---
Making cheap calls to Israel has never been easier! Call another country: