Cheap calls to Denmark with premium quality

Cheap international calls to DENMARK

Local time in Copenhagen is 9:10 pm Wednesday.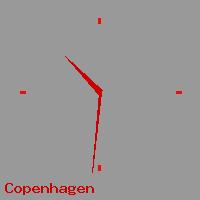 Make cheap International calls to Denmark from 1.43 cents per minute with no connection fee, no hidden cost and no contract. You simply dial from your sip/VoIP phone to call your friends and family members in Denmark. With ClicknCall you can drastically reduce your international calling expense and save. You don't even need any Internet connection to make cheap calls to Denmark! You can use it just like a phone calling card by calling the local access numbers or the global access numbers.
---
You can make cheap international calls to Denmark from Australia using our best quality VoIP services or use it just like an old-fashion calling card without any Internet connection.


Only 5 cents per SMS message sent to Denmark mobiles from your web browser.
---
Call rates to Denmark

Destination
Prefix
Rate (AUD)
Charge Unit
Denmark 80 phone
4580
1.43 cents
per minute
Denmark - all
4579
1.43 cents
per minute
Denmark - all
4589
1.43 cents
per minute
Denmark - all
4596
1.43 cents
per minute
Denmark - all
4599
1.43 cents
per minute
Denmark - all
453
1.43 cents
per minute
Denmark - all
459848
1.43 cents
per minute
Denmark - all
454448
1.43 cents
per minute
Denmark - all
4578
1.43 cents
per minute
Denmark - all
456615
1.43 cents
per minute
Denmark - mobiles
4551
7.5 cents
per minute
Denmark - mobiles
4530
7.5 cents
per minute
Denmark - mobiles
4541
7.5 cents
per minute
Denmark - mobiles
456098
7.5 cents
per minute
Denmark - mobiles
4531312
7.5 cents
per minute
Denmark - mobiles
454295
7.5 cents
per minute
Denmark - mobiles
454294
7.5 cents
per minute
Denmark - mobiles
454292
7.5 cents
per minute
Denmark - mobiles
454293
7.5 cents
per minute
Denmark - mobiles
454291
7.5 cents
per minute
Denmark - mobiles
454290
7.5 cents
per minute
Denmark - mobiles
4561
7.5 cents
per minute
Denmark - mobiles
454262
7.5 cents
per minute
Denmark - mobiles
454261
7.5 cents
per minute
Denmark - mobiles
454274
7.5 cents
per minute
Denmark - mobiles
454273
7.5 cents
per minute
Denmark - mobiles
454271
7.5 cents
per minute
Denmark - mobiles
454272
7.5 cents
per minute
Denmark - mobiles
454269
7.5 cents
per minute
Denmark - mobiles
454268
7.5 cents
per minute
Denmark - mobiles
454267
7.5 cents
per minute
Denmark - mobiles
454266
7.5 cents
per minute
Denmark - mobiles
454265
7.5 cents
per minute
Denmark - mobiles
454264
7.5 cents
per minute
Denmark - mobiles
454263
7.5 cents
per minute
Denmark - mobiles
454289
7.5 cents
per minute
Denmark - mobiles
4540
7.5 cents
per minute
Denmark - mobiles
455211
7.5 cents
per minute
Denmark - mobiles
45716
7.5 cents
per minute
Denmark - mobiles
45718
7.5 cents
per minute
Denmark - mobiles
45715
7.5 cents
per minute
Denmark - mobiles
45713
7.5 cents
per minute
Denmark - mobiles
45714
7.5 cents
per minute
Denmark - mobiles
45600
7.5 cents
per minute
Denmark - mobiles
45310
7.5 cents
per minute
Denmark - mobiles
45538
7.5 cents
per minute
Denmark - mobiles
4550
7.5 cents
per minute
Denmark - mobiles
452
7.5 cents
per minute
Denmark - mobiles
455376
7.5 cents
per minute
Denmark - mobiles
455212
7.5 cents
per minute
Denmark - mobiles
454288
7.5 cents
per minute
Denmark - mobiles
454287
7.5 cents
per minute
Denmark - mobiles
454286
7.5 cents
per minute
Denmark - mobiles
454285
7.5 cents
per minute
Denmark - mobiles
454283
7.5 cents
per minute
Denmark - mobiles
454284
7.5 cents
per minute
Denmark - mobiles
454282
7.5 cents
per minute
Denmark - mobiles
455377
7.5 cents
per minute
Denmark - mobiles
455378
7.5 cents
per minute
Denmark - mobiles
455379
7.5 cents
per minute
Denmark - mobiles
45318
7.5 cents
per minute
Denmark - mobiles
454281
7.5 cents
per minute
Denmark - mobiles hi3g
453135
7.5 cents
per minute
Denmark - mobiles hi3g
4531319
7.5 cents
per minute
Denmark - mobiles hi3g
453134
7.5 cents
per minute
Denmark - mobiles hi3g
453137
7.5 cents
per minute
Denmark - mobiles hi3g
453136
7.5 cents
per minute
Denmark - mobiles hi3g
453139
7.5 cents
per minute
Denmark - mobiles hi3g
453138
7.5 cents
per minute
Denmark - mobiles hi3g
4531311
7.5 cents
per minute
Denmark - mobiles hi3g
4531310
7.5 cents
per minute
Denmark - mobiles hi3g
4531314
7.5 cents
per minute
Denmark - mobiles hi3g
4531313
7.5 cents
per minute
Denmark - mobiles hi3g
4531316
7.5 cents
per minute
Denmark - mobiles hi3g
4531315
7.5 cents
per minute
Denmark - mobiles hi3g
4531318
7.5 cents
per minute
Denmark - mobiles hi3g
4531317
7.5 cents
per minute
Denmark - mobiles hi3g
453132
7.5 cents
per minute
Denmark - mobiles hi3g
453133
7.5 cents
per minute
Denmark - mobiles hi3g
45535
7.5 cents
per minute
Denmark - mobiles hi3g
45536
7.5 cents
per minute
Denmark - mobiles hi3g
455370
7.5 cents
per minute
Denmark - mobiles hi3g
455371
7.5 cents
per minute
Denmark - mobiles hi3g
455372
7.5 cents
per minute
Denmark - mobiles hi3g
455373
7.5 cents
per minute
Denmark - mobiles hi3g
455374
7.5 cents
per minute
Denmark - mobiles hi3g
455375
7.5 cents
per minute
Denmark - mobiles hi3g
45311
7.5 cents
per minute
Denmark - mobiles hi3g
453130
7.5 cents
per minute
Denmark - mobiles hi3g
45317
7.5 cents
per minute
Denmark - mobiles hi3g
45316
7.5 cents
per minute
Denmark - mobiles hi3g
45315
7.5 cents
per minute
Denmark - mobiles hi3g
45314
7.5 cents
per minute
Denmark - mobiles hi3g
45312
7.5 cents
per minute
Denmark - mobiles sonofon
45539
7.5 cents
per minute
Denmark - mobiles sonofon
45509
7.5 cents
per minute
Denmark - mobiles sonofon
45508
7.5 cents
per minute
Denmark - mobiles sonofon
45505
7.5 cents
per minute
Denmark - mobiles sonofon
45507
7.5 cents
per minute
Denmark - mobiles sonofon
45503
7.5 cents
per minute
Denmark - mobiles sonofon
45605
7.5 cents
per minute
Denmark - mobiles sonofon
45606
7.5 cents
per minute
Denmark - mobiles sonofon
45607
7.5 cents
per minute
Denmark - mobiles sonofon
45608
7.5 cents
per minute
Denmark - mobiles sonofon
452596
7.5 cents
per minute
Denmark - mobiles sonofon
454260
7.5 cents
per minute
Denmark - mobiles sonofon
454270
7.5 cents
per minute
Denmark - mobiles sonofon
454280
7.5 cents
per minute
Denmark - mobiles sonofon
455062
7.5 cents
per minute
Denmark - mobiles sonofon
45504
7.5 cents
per minute
Denmark - mobiles sonofon
45501
7.5 cents
per minute
Denmark - mobiles sonofon
45502
7.5 cents
per minute
Denmark - mobiles sonofon
45405
7.5 cents
per minute
Denmark - mobiles sonofon
45406
7.5 cents
per minute
Denmark - mobiles sonofon
45407
7.5 cents
per minute
Denmark - mobiles sonofon
45408
7.5 cents
per minute
Denmark - mobiles sonofon
45409
7.5 cents
per minute
Denmark - mobiles sonofon
45411
7.5 cents
per minute
Denmark - mobiles sonofon
45412
7.5 cents
per minute
Denmark - mobiles sonofon
45413
7.5 cents
per minute
Denmark - mobiles sonofon
45417
7.5 cents
per minute
Denmark - mobiles sonofon
45416
7.5 cents
per minute
Denmark - mobiles sonofon
45419
7.5 cents
per minute
Denmark - mobiles sonofon
45418
7.5 cents
per minute
Denmark - mobiles sonofon
45425
7.5 cents
per minute
Denmark - mobiles sonofon
45424
7.5 cents
per minute
Denmark - mobiles sonofon
45256
7.5 cents
per minute
Denmark - mobiles sonofon
455065
7.5 cents
per minute
Denmark - mobiles sonofon
455066
7.5 cents
per minute
Denmark - mobiles sonofon
456091
7.5 cents
per minute
Denmark - mobiles sonofon
456092
7.5 cents
per minute
Denmark - mobiles sonofon
456094
7.5 cents
per minute
Denmark - mobiles sonofon
456093
7.5 cents
per minute
Denmark - mobiles sonofon
456095
7.5 cents
per minute
Denmark - mobiles sonofon
456096
7.5 cents
per minute
Denmark - mobiles sonofon
456097
7.5 cents
per minute
Denmark - mobiles sonofon
45257
7.5 cents
per minute
Denmark - mobiles sonofon
45258
7.5 cents
per minute
Denmark - mobiles sonofon
45414
7.5 cents
per minute
Denmark - mobiles sonofon
45319
7.5 cents
per minute
Denmark - mobiles sonofon
45618
7.5 cents
per minute
Denmark - mobiles sonofon
45415
7.5 cents
per minute
Denmark - mobiles sonofon
45619
7.5 cents
per minute
Denmark - mobiles sonofon
455333
7.5 cents
per minute
Denmark - mobiles sonofon
456090
7.5 cents
per minute
Denmark - mobiles sonofon
455317
7.5 cents
per minute
Denmark - mobiles sonofon
455067
7.5 cents
per minute
Denmark - mobiles sonofon
455210
7.5 cents
per minute
Denmark - mobiles sonofon
455222
7.5 cents
per minute
Denmark - mobiles sonofon
455220
7.5 cents
per minute
Denmark - mobiles sonofon
455240
7.5 cents
per minute
Denmark - mobiles sonofon
455230
7.5 cents
per minute
Denmark - mobiles sonofon
455311
7.5 cents
per minute
Denmark - mobiles sonofon
455310
7.5 cents
per minute
Denmark - mobiles sonofon
455312
7.5 cents
per minute
Denmark - mobiles sonofon
455314
7.5 cents
per minute
Denmark - mobiles sonofon
455313
7.5 cents
per minute
Denmark - mobiles sonofon
455316
7.5 cents
per minute
Denmark - mobiles sonofon
455315
7.5 cents
per minute
Denmark - mobiles sonofon
455318
7.5 cents
per minute
Denmark - mobiles sonofon
454275
7.5 cents
per minute
Denmark - mobiles sonofon
45812
7.5 cents
per minute
Denmark - mobiles sonofon
455244
7.5 cents
per minute
Denmark - mobiles sonofon
457110
7.5 cents
per minute
Denmark - mobiles sonofon
457111
7.5 cents
per minute
Denmark - mobiles sonofon
457112
7.5 cents
per minute
Denmark - mobiles sonofon
457113
7.5 cents
per minute
Denmark - mobiles sonofon
457114
7.5 cents
per minute
Denmark - mobiles sonofon
457115
7.5 cents
per minute
Denmark - mobiles sonofon
457117
7.5 cents
per minute
Denmark - mobiles sonofon
457116
7.5 cents
per minute
Denmark - mobiles sonofon
457118
7.5 cents
per minute
Denmark - mobiles sonofon
457119
7.5 cents
per minute
Denmark - mobiles sonofon
457120
7.5 cents
per minute
Denmark - mobiles sonofon
457121
7.5 cents
per minute
Denmark - mobiles sonofon
457122
7.5 cents
per minute
Denmark - mobiles sonofon
455242
7.5 cents
per minute
Denmark - mobiles sonofon
455233
7.5 cents
per minute
Denmark - mobiles sonofon
455225
7.5 cents
per minute
Denmark - mobiles sonofon
45811
7.5 cents
per minute
Denmark - mobiles sonofon
458132
7.5 cents
per minute
Denmark - mobiles sonofon
458131
7.5 cents
per minute
Denmark - mobiles sonofon
458134
7.5 cents
per minute
Denmark - mobiles sonofon
458133
7.5 cents
per minute
Denmark - mobiles sonofon
458136
7.5 cents
per minute
Denmark - mobiles sonofon
458135
7.5 cents
per minute
Denmark - mobiles sonofon
458182
7.5 cents
per minute
Denmark - mobiles sonofon
458181
7.5 cents
per minute
Denmark - mobiles sonofon
45526
7.5 cents
per minute
Denmark - mobiles sonofon
45525
7.5 cents
per minute
Denmark - mobiles sonofon
45527
7.5 cents
per minute
Denmark - mobiles sonofon
45528
7.5 cents
per minute
Denmark - mobiles sonofon
45529
7.5 cents
per minute
Denmark - mobiles sonofon
457123
7.5 cents
per minute
Denmark - mobiles sonofon
457124
7.5 cents
per minute
Denmark - mobiles sonofon
45259
7.5 cents
per minute
Denmark - mobiles sonofon
45221
7.5 cents
per minute
Denmark - mobiles sonofon
45222
7.5 cents
per minute
Denmark - mobiles sonofon
45223
7.5 cents
per minute
Denmark - mobiles sonofon
45224
7.5 cents
per minute
Denmark - mobiles sonofon
45225
7.5 cents
per minute
Denmark - mobiles sonofon
45226
7.5 cents
per minute
Denmark - mobiles sonofon
45227
7.5 cents
per minute
Denmark - mobiles sonofon
45228
7.5 cents
per minute
Denmark - mobiles sonofon
45229
7.5 cents
per minute
Denmark - mobiles sonofon
45251
7.5 cents
per minute
Denmark - mobiles sonofon
45252
7.5 cents
per minute
Denmark - mobiles sonofon
45253
7.5 cents
per minute
Denmark - mobiles sonofon
45254
7.5 cents
per minute
Denmark - mobiles sonofon
45255
7.5 cents
per minute
Denmark - mobiles sonofon
45209
7.5 cents
per minute
Denmark - mobiles sonofon
45208
7.5 cents
per minute
Denmark - mobiles sonofon
45207
7.5 cents
per minute
Denmark - mobiles sonofon
457125
7.5 cents
per minute
Denmark - mobiles sonofon
457126
7.5 cents
per minute
Denmark - mobiles sonofon
457127
7.5 cents
per minute
Denmark - mobiles sonofon
457128
7.5 cents
per minute
Denmark - mobiles sonofon
457129
7.5 cents
per minute
Denmark - mobiles sonofon
457170
7.5 cents
per minute
Denmark - mobiles sonofon
457171
7.5 cents
per minute
Denmark - mobiles sonofon
457172
7.5 cents
per minute
Denmark - mobiles sonofon
457174
7.5 cents
per minute
Denmark - mobiles sonofon
457192
7.5 cents
per minute
Denmark - mobiles sonofon
45206
7.5 cents
per minute
Denmark - mobiles sonofon
457191
7.5 cents
per minute
Denmark - mobiles sonofon
457177
7.5 cents
per minute
Denmark - mobiles sonofon
457176
7.5 cents
per minute
Denmark - mobiles sonofon
457175
7.5 cents
per minute
Denmark - mobiles tdk
45516
7.5 cents
per minute
Denmark - mobiles tdk
45517
7.5 cents
per minute
Denmark - mobiles tdk
45611
7.5 cents
per minute
Denmark - mobiles tdk
45519
7.5 cents
per minute
Denmark - mobiles tdk
45613
7.5 cents
per minute
Denmark - mobiles tdk
45612
7.5 cents
per minute
Denmark - mobiles tdk
45616
7.5 cents
per minute
Denmark - mobiles tdk
45615
7.5 cents
per minute
Denmark - mobiles tdk
452390
7.5 cents
per minute
Denmark - mobiles tdk
45617
7.5 cents
per minute
Denmark - mobiles tdk
45515
7.5 cents
per minute
Denmark - mobiles tdk
45514
7.5 cents
per minute
Denmark - mobiles tdk
45513
7.5 cents
per minute
Denmark - mobiles tdk
45307
7.5 cents
per minute
Denmark - mobiles tdk
45306
7.5 cents
per minute
Denmark - mobiles tdk
45309
7.5 cents
per minute
Denmark - mobiles tdk
45308
7.5 cents
per minute
Denmark - mobiles tdk
45401
7.5 cents
per minute
Denmark - mobiles tdk
45402
7.5 cents
per minute
Denmark - mobiles tdk
45403
7.5 cents
per minute
Denmark - mobiles tdk
45404
7.5 cents
per minute
Denmark - mobiles tdk
45511
7.5 cents
per minute
Denmark - mobiles tdk
45512
7.5 cents
per minute
Denmark - mobiles tdk
452392
7.5 cents
per minute
Denmark - mobiles tdk
452391
7.5 cents
per minute
Denmark - mobiles tdk
455186
7.5 cents
per minute
Denmark - mobiles tdk
455187
7.5 cents
per minute
Denmark - mobiles tdk
456140
7.5 cents
per minute
Denmark - mobiles tdk
456142
7.5 cents
per minute
Denmark - mobiles tdk
456141
7.5 cents
per minute
Denmark - mobiles tdk
456143
7.5 cents
per minute
Denmark - mobiles tdk
456144
7.5 cents
per minute
Denmark - mobiles tdk
456145
7.5 cents
per minute
Denmark - mobiles tdk
456147
7.5 cents
per minute
Denmark - mobiles tdk
456148
7.5 cents
per minute
Denmark - mobiles tdk
455185
7.5 cents
per minute
Denmark - mobiles tdk
455184
7.5 cents
per minute
Denmark - mobiles tdk
452394
7.5 cents
per minute
Denmark - mobiles tdk
452393
7.5 cents
per minute
Denmark - mobiles tdk
452397
7.5 cents
per minute
Denmark - mobiles tdk
452396
7.5 cents
per minute
Denmark - mobiles tdk
452399
7.5 cents
per minute
Denmark - mobiles tdk
452398
7.5 cents
per minute
Denmark - mobiles tdk
455180
7.5 cents
per minute
Denmark - mobiles tdk
455181
7.5 cents
per minute
Denmark - mobiles tdk
455182
7.5 cents
per minute
Denmark - mobiles tdk
455183
7.5 cents
per minute
Denmark - mobiles tdk
456149
7.5 cents
per minute
Denmark - mobiles tdk
455060
7.5 cents
per minute
Denmark - mobiles tdk
45216
7.5 cents
per minute
Denmark - mobiles tdk
45218
7.5 cents
per minute
Denmark - mobiles tdk
45217
7.5 cents
per minute
Denmark - mobiles tdk
45231
7.5 cents
per minute
Denmark - mobiles tdk
45219
7.5 cents
per minute
Denmark - mobiles tdk
45233
7.5 cents
per minute
Denmark - mobiles tdk
45232
7.5 cents
per minute
Denmark - mobiles tdk
45235
7.5 cents
per minute
Denmark - mobiles tdk
45234
7.5 cents
per minute
Denmark - mobiles tdk
45237
7.5 cents
per minute
Denmark - mobiles tdk
45214
7.5 cents
per minute
Denmark - mobiles tdk
45215
7.5 cents
per minute
Denmark - mobiles tdk
456099
7.5 cents
per minute
Denmark - mobiles tdk
455061
7.5 cents
per minute
Denmark - mobiles tdk
45201
7.5 cents
per minute
Denmark - mobiles tdk
45202
7.5 cents
per minute
Denmark - mobiles tdk
45203
7.5 cents
per minute
Denmark - mobiles tdk
45204
7.5 cents
per minute
Denmark - mobiles tdk
45205
7.5 cents
per minute
Denmark - mobiles tdk
45211
7.5 cents
per minute
Denmark - mobiles tdk
45212
7.5 cents
per minute
Denmark - mobiles tdk
45213
7.5 cents
per minute
Denmark - mobiles tdk
45236
7.5 cents
per minute
Denmark - mobiles tdk
45304
7.5 cents
per minute
Denmark - mobiles tdk
45293
7.5 cents
per minute
Denmark - mobiles tdk
45295
7.5 cents
per minute
Denmark - mobiles tdk
45296
7.5 cents
per minute
Denmark - mobiles tdk
45298
7.5 cents
per minute
Denmark - mobiles tdk
45297
7.5 cents
per minute
Denmark - mobiles tdk
45301
7.5 cents
per minute
Denmark - mobiles tdk
45299
7.5 cents
per minute
Denmark - mobiles tdk
45303
7.5 cents
per minute
Denmark - mobiles tdk
45302
7.5 cents
per minute
Denmark - mobiles tdk
45305
7.5 cents
per minute
Denmark - mobiles tdk
45294
7.5 cents
per minute
Denmark - mobiles tdk
45292
7.5 cents
per minute
Denmark - mobiles tdk
45241
7.5 cents
per minute
Denmark - mobiles tdk
45238
7.5 cents
per minute
Denmark - mobiles tdk
45243
7.5 cents
per minute
Denmark - mobiles tdk
45242
7.5 cents
per minute
Denmark - mobiles tdk
45245
7.5 cents
per minute
Denmark - mobiles tdk
45244
7.5 cents
per minute
Denmark - mobiles tdk
45247
7.5 cents
per minute
Denmark - mobiles tdk
45246
7.5 cents
per minute
Denmark - mobiles tdk
45249
7.5 cents
per minute
Denmark - mobiles tdk
45248
7.5 cents
per minute
Denmark - mobiles tdk
45291
7.5 cents
per minute
Denmark - mobiles telia
45420
7.5 cents
per minute
Denmark - mobiles telia
45421
7.5 cents
per minute
Denmark - mobiles telia
45422
7.5 cents
per minute
Denmark - mobiles telia
45423
7.5 cents
per minute
Denmark - mobiles telia
45532
7.5 cents
per minute
Denmark - mobiles telia
45534
7.5 cents
per minute
Denmark - mobiles telia
45601
7.5 cents
per minute
Denmark - mobiles telia
45602
7.5 cents
per minute
Denmark - mobiles telia
45603
7.5 cents
per minute
Denmark - mobiles telia
45289
7.5 cents
per minute
Denmark - mobiles telia
45288
7.5 cents
per minute
Denmark - mobiles telia
45287
7.5 cents
per minute
Denmark - mobiles telia
45277
7.5 cents
per minute
Denmark - mobiles telia
45278
7.5 cents
per minute
Denmark - mobiles telia
45279
7.5 cents
per minute
Denmark - mobiles telia
45281
7.5 cents
per minute
Denmark - mobiles telia
45282
7.5 cents
per minute
Denmark - mobiles telia
45284
7.5 cents
per minute
Denmark - mobiles telia
45283
7.5 cents
per minute
Denmark - mobiles telia
45285
7.5 cents
per minute
Denmark - mobiles telia
45286
7.5 cents
per minute
Denmark - mobiles telia
45604
7.5 cents
per minute
Denmark - mobiles telia
452395
7.5 cents
per minute
Denmark - mobiles telia
455330
7.5 cents
per minute
Denmark - mobiles telia
455331
7.5 cents
per minute
Denmark - mobiles telia
455332
7.5 cents
per minute
Denmark - mobiles telia
455334
7.5 cents
per minute
Denmark - mobiles telia
455335
7.5 cents
per minute
Denmark - mobiles telia
455336
7.5 cents
per minute
Denmark - mobiles telia
455337
7.5 cents
per minute
Denmark - mobiles telia
455338
7.5 cents
per minute
Denmark - mobiles telia
455339
7.5 cents
per minute
Denmark - mobiles telia
455319
7.5 cents
per minute
Denmark - mobiles telia
455189
7.5 cents
per minute
Denmark - mobiles telia
454277
7.5 cents
per minute
Denmark - mobiles telia
454276
7.5 cents
per minute
Denmark - mobiles telia
454278
7.5 cents
per minute
Denmark - mobiles telia
454279
7.5 cents
per minute
Denmark - mobiles telia
454296
7.5 cents
per minute
Denmark - mobiles telia
454298
7.5 cents
per minute
Denmark - mobiles telia
454297
7.5 cents
per minute
Denmark - mobiles telia
454299
7.5 cents
per minute
Denmark - mobiles telia
455188
7.5 cents
per minute
Denmark - mobiles telia
456146
7.5 cents
per minute
Denmark - mobiles telia
455213
7.5 cents
per minute
Denmark - mobiles telia
455228
7.5 cents
per minute
Denmark - mobiles telia
455229
7.5 cents
per minute
Denmark - mobiles telia
455231
7.5 cents
per minute
Denmark - mobiles telia
455232
7.5 cents
per minute
Denmark - mobiles telia
455234
7.5 cents
per minute
Denmark - mobiles telia
455235
7.5 cents
per minute
Denmark - mobiles telia
455236
7.5 cents
per minute
Denmark - mobiles telia
455237
7.5 cents
per minute
Denmark - mobiles telia
455238
7.5 cents
per minute
Denmark - mobiles telia
455227
7.5 cents
per minute
Denmark - mobiles telia
455226
7.5 cents
per minute
Denmark - mobiles telia
455214
7.5 cents
per minute
Denmark - mobiles telia
455215
7.5 cents
per minute
Denmark - mobiles telia
455216
7.5 cents
per minute
Denmark - mobiles telia
455217
7.5 cents
per minute
Denmark - mobiles telia
455218
7.5 cents
per minute
Denmark - mobiles telia
455219
7.5 cents
per minute
Denmark - mobiles telia
455221
7.5 cents
per minute
Denmark - mobiles telia
455224
7.5 cents
per minute
Denmark - mobiles telia
455223
7.5 cents
per minute
Denmark - mobiles telia
455239
7.5 cents
per minute
Denmark - mobiles telia
455241
7.5 cents
per minute
Denmark - mobiles telia
45267
7.5 cents
per minute
Denmark - mobiles telia
45268
7.5 cents
per minute
Denmark - mobiles telia
45269
7.5 cents
per minute
Denmark - mobiles telia
45271
7.5 cents
per minute
Denmark - mobiles telia
45273
7.5 cents
per minute
Denmark - mobiles telia
45272
7.5 cents
per minute
Denmark - mobiles telia
45274
7.5 cents
per minute
Denmark - mobiles telia
45275
7.5 cents
per minute
Denmark - mobiles telia
45276
7.5 cents
per minute
Denmark - mobiles telia
45266
7.5 cents
per minute
Denmark - mobiles telia
45265
7.5 cents
per minute
Denmark - mobiles telia
45264
7.5 cents
per minute
Denmark - mobiles telia
455243
7.5 cents
per minute
Denmark - mobiles telia
455246
7.5 cents
per minute
Denmark - mobiles telia
455245
7.5 cents
per minute
Denmark - mobiles telia
455248
7.5 cents
per minute
Denmark - mobiles telia
455247
7.5 cents
per minute
Denmark - mobiles telia
455249
7.5 cents
per minute
Denmark - mobiles telia
45261
7.5 cents
per minute
Denmark - mobiles telia
45263
7.5 cents
per minute
Denmark - mobiles telia
45262
7.5 cents
per minute
---
Making cheap calls to Denmark has never been easier! Call another country: