Cheap calls to Colombia with premium quality

Cheap international calls to COLOMBIA

Local time in Bogota is 5:13 am Monday.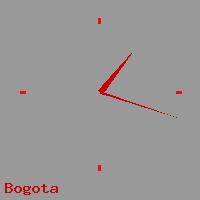 Make cheap International calls to Colombia from 20 cents per call with no connection fee, no hidden cost and no contract. You simply dial from your sip phone to call your friends or family members in Colombia. With ClicknCall you can drastically reduce your international calling cost. You don't even need any Internet connection to make cheap calls to Colombia!
---
You can make cheap international calls to Colombia from Australia with high quality.

Only 10¢ per SMS message sent to Colombia mobile from your PC.
---
Call rates to Colombia

Destination
Prefix
Rate (AUD)
Charge Unit
Colombia - bogota
5712
20¢
per call
Colombia - bogota
5713
20¢
per call
Colombia - bogota
5714
20¢
per call
Colombia - bogota
5715
20¢
per call
Colombia - bogota
5716
20¢
per call
Colombia - bogota
5717
20¢
per call
Colombia - cali
5723
20¢
per call
Colombia - cali
5724
20¢
per call
Colombia - cali
5725
20¢
per call
Colombia - cali
5726
20¢
per call
Colombia - cali
57288
20¢
per call
Colombia - cali
57289
20¢
per call
Colombia - cali
5729091
20¢
per call
Colombia - cali
5729092
20¢
per call
Colombia - medellin
5742
20¢
per call
Colombia - medellin
5743
20¢
per call
Colombia - medellin
5744
20¢
per call
Colombia - medellin
5745
20¢
per call
Colombia - medellin
5748500
20¢
per call
Colombia - medellin
5748501
20¢
per call
Colombia - medellin
5748506
20¢
per call
Colombia - medellin
5748510
20¢
per call
Colombia - medellin
5748511
20¢
per call
Colombia - mobiles
57310
18¢
per minute
Colombia - mobiles
57311
18¢
per minute
Colombia - mobiles
57312
18¢
per minute
Colombia - mobiles
57313
18¢
per minute
Colombia - mobiles
57314
18¢
per minute
Colombia - mobiles
57315
18¢
per minute
Colombia - mobiles
57316
18¢
per minute
Colombia - mobiles
57317
18¢
per minute
Colombia - mobiles
57320
18¢
per minute
Colombia - mobiles
57321
18¢
per minute
Colombia - mobiles
57300
18¢
per minute
Colombia - mobiles
57301
18¢
per minute
Colombia - mobiles
57304
18¢
per minute
Colombia pereira
57631
9.6¢
per minute
Colombia pereira
57632
9.6¢
per minute
Colombia pereira
57633
9.6¢
per minute
Colombia pereira
57635
9.6¢
per minute
Colombia
575
9.37¢
per minute
---
Making cheap calls to Colombia has never been easier! Call another country: