Cheap calls to Bangladesh with premium quality

Cheap international calls to BANGLADESH

Local time in Dhaka is 1:31 am Thursday.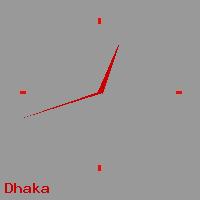 Make cheap International calls to Bangladesh from 7.4 cents per minute with no connection fee, no hidden cost and no contract. You simply dial from your sip/VoIP phone to call your friends and family members in Bangladesh. With ClicknCall you can drastically reduce your international calling expense and save. You don't even need any Internet connection to make cheap calls to Bangladesh! You can use it just like a phone calling card by calling the local access numbers or the global access numbers.
---
You can make cheap international calls to Bangladesh from Australia using our best quality VoIP services or use it just like an old-fashion calling card without any Internet connection.


Only 5 cents per SMS message sent to Bangladesh mobiles from your web browser.
---
Call rates to Bangladesh

Destination
Prefix
Rate (AUD)
Charge Unit
Bangladesh
880
7.4 cents
per minute
Bangladesh - chittagong
88031
7.4 cents
per minute
Bangladesh - dhaka
8802
7.4 cents
per minute
Bangladesh - mobiles
8801
7.4 cents
per minute
---
Making cheap calls to Bangladesh has never been easier! Call another country:
---
Making cheap calls to Bangladesh:
In 1989 Bangladesh Telecom Limited (BTL) was awarded a license to operate cellular, paging, and other wireless communication networks. Then in 1990 Hutchison Bangladesh Telecom Limited (HBTL) was incorporated in Bangladesh as a joint venture between BTL and Hutchison Telecommunications (Bangladesh) Limited. HBTL began commercial operation in Dhaka using the AMPS mobile technology in 1993 and became the 1st cellular operator in South Asia[2]. Later that year Pacific Motors bought 50% of BTL. By 1996 HBTL was renamed as Pacific Bangladesh Telecom Limited (PBTL) and launched the brand name "Citycell Digital" to market its cellular products.
Citycell (Pacific Bangladesh Telecom Limited) is the first mobile communications company of Bangladesh. It is the only CDMA network operator in the country. As of 1 March, 2008, Citycell's total mobile subscriber base is 1.56 million, up 137 per cent or 680,000 from two years ago, giving it the best growth rate of the company till date. Citycell is currently owned by Singtel with 45% stake and the rest 55% owned by Pacific Group and Far East Telecom.
By the end of 2007 Citycell had refurbished its old brand identity and introduced a new logo and corporate identity; the new logo is very reminiscent of the old logo. However the slogan has remained unchanged "because we care"