Cheap calls to Austria with premium quality

Cheap international calls to AUSTRIA

Local time in Vienna is 10:09 pm Wednesday.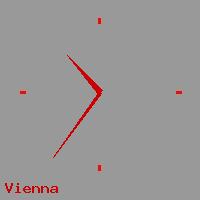 Make cheap International calls to Austria from 19.5 cents per minute with no connection fee, no hidden cost and no contract. You simply dial from your sip/VoIP phone to call your friends and family members in Austria. With ClicknCall you can drastically reduce your international calling expense and save. You don't even need any Internet connection to make cheap calls to Austria! You can use it just like a phone calling card by calling the local access numbers or the global access numbers.
---
You can make cheap international calls to Austria from Australia using our best quality VoIP services or use it just like an old-fashion calling card without any Internet connection.


Only 5 cents per SMS message sent to Austria mobiles from your web browser.
---
Call rates to Austria

Destination
Prefix
Rate (AUD)
Charge Unit
Austria
43
19.5 cents
per minute
Austria - vienna
431
19.5 cents
per minute
Austria -private numbers
43506
24.3 cents
per minute
Austria -private numbers
43505
24.3 cents
per minute
Austria -private numbers
43507
24.3 cents
per minute
Austria -private numbers
43508
24.3 cents
per minute
Austria -private numbers
43509
24.3 cents
per minute
Austria -private numbers
43517
24.3 cents
per minute
Austria -private numbers
4357
24.3 cents
per minute
Austria -private numbers
43501
24.3 cents
per minute
Austria -private numbers
43502
24.3 cents
per minute
Austria -private numbers
43503
24.3 cents
per minute
Austria -private numbers
43504
24.3 cents
per minute
Austria -special service
43720
24.3 cents
per minute
Austria -private numbers
4359
24.3 cents
per minute
Austria -special service
43780
24.3 cents
per minute
Austria - mobiles
4369981
38.5 cents
per minute
Austria - mobiles
4369982
38.5 cents
per minute
Austria - mobiles
43655
38.5 cents
per minute
Austria - mobiles
4366766
38.5 cents
per minute
Austria - mobiles
4366777
38.5 cents
per minute
Austria - mobiles
43680
38.5 cents
per minute
Austria - mobiles
43688
38.5 cents
per minute
Austria - mobiles
4369988
38.5 cents
per minute
Austria - mobiles
4369989
38.5 cents
per minute
Austria - mobiles
43681
38.5 cents
per minute
Austria - mobiles
43650
38.5 cents
per minute
Austria - mobiles
43676
38.5 cents
per minute
Austria - mobiles
43677
38.5 cents
per minute
Austria - mobiles
4312288
38.5 cents
per minute
Austria - mobiles
43664
38.5 cents
per minute
Austria - mobiles
4369
38.5 cents
per minute
Austria - mobiles
4369090
38.5 cents
per minute
Austria - mobiles
4369080
38.5 cents
per minute
Austria - mobiles
4369060
38.5 cents
per minute
Austria - mobiles
4369050
38.5 cents
per minute
Austria - mobiles
4369040
38.5 cents
per minute
Austria - mobiles
4369030
38.5 cents
per minute
Austria - mobiles
4369020
38.5 cents
per minute
Austria - mobiles
4369010
38.5 cents
per minute
Austria - mobiles
4368190
38.5 cents
per minute
Austria - mobiles
4368
38.5 cents
per minute
Austria - mobiles
4367
38.5 cents
per minute
Austria - mobiles
43668
38.5 cents
per minute
Austria - mobiles
43667
38.5 cents
per minute
Austria - mobiles
43665
38.5 cents
per minute
Austria - mobiles
43663
38.5 cents
per minute
Austria - mobiles
43661
38.5 cents
per minute
Austria - mobiles
4366565
38.5 cents
per minute
Austria - mobiles
43699
38.5 cents
per minute
Austria - mobiles
4368183
38.5 cents
per minute
Austria - mobiles
4367891
38.5 cents
per minute
Austria - mobiles
4367890
38.5 cents
per minute
Austria - mobiles
4367833
38.5 cents
per minute
Austria - mobiles
43660
38.5 cents
per minute
Austria - mobiles
436688
38.5 cents
per minute
Austria - mobiles
4366566
38.5 cents
per minute
Austria - mobiles
4366363
38.5 cents
per minute
Austria - mobiles
4366306
38.5 cents
per minute
Austria - mobiles
4366305
38.5 cents
per minute
Austria - mobiles
4366303
38.5 cents
per minute
Austria -premium numbers
43810
62 cents
per minute
Austria -premium numbers
43711
62 cents
per minute
Austria -premium numbers
43730
62 cents
per minute
Austria -premium numbers
43740
62 cents
per minute
Austria -premium numbers
43820
62 cents
per minute
---
Making cheap calls to Austria has never been easier! Call another country: