Cheap calls to Austria with premium quality

Cheap international calls to AUSTRIA

Local time in Vienna is 12:14 pm Monday.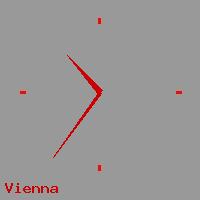 Make cheap International calls to Austria from 20 cents per call with no connection fee, no hidden cost and no contract. You simply dial from your sip phone to call your friends or family members in Austria. With ClicknCall you can drastically reduce your international calling cost. You don't even need any Internet connection to make cheap calls to Austria!
---
You can make cheap international calls to Austria from Australia with high quality.

Only 10¢ per SMS message sent to Austria mobile from your PC.
---
Call rates to Austria

Destination
Prefix
Rate (AUD)
Charge Unit
Austria -abfaltersbach
434846
20¢
per call
Austria -absdorf
432278
20¢
per call
Austria -abtenau
436243
20¢
per call
Austria -ach
437727
20¢
per call
Austria -achenkirch
435246
20¢
per call
Austria -admont
433613
20¢
per call
Austria -aflenz
433861
20¢
per call
Austria -afritz
434247
20¢
per call
Austria -aggsbach
432712
20¢
per call
Austria -aigen im mühlkreis
437281
20¢
per call
Austria -ainet
434853
20¢
per call
Austria -alberschwende
435579
20¢
per call
Austria -alkoven
437274
20¢
per call
Austria -alland
432258
20¢
per call
Austria -allentsteig
432824
20¢
per call
Austria -alpbach
435336
20¢
per call
Austria -altenberg bei linz
437230
20¢
per call
Austria -altenmarkt (yspertal)
437415
20¢
per call
Austria -altenmarkt an der triesting
432673
20¢
per call
Austria -altheim
437723
20¢
per call
Austria -ampflwang im hausruckwald
437675
20¢
per call
Austria -amstetten
437472
20¢
per call
Austria -andorf
437766
20¢
per call
Austria -andrichsfurt
437750
20¢
per call
Austria -anger
433175
20¢
per call
Austria -angern an der march
432283
20¢
per call
Austria -annaberg-lungötz
436463
20¢
per call
Austria -anthering
436223
20¢
per call
Austria -antiesenhofen
437759
20¢
per call
Austria -apetlon
432175
20¢
per call
Austria -arbesbach
432813
20¢
per call
Austria -ardagger
437479
20¢
per call
Austria -arnfels
433455
20¢
per call
Austria -arnoldstein
434255
20¢
per call
Austria -aschach an der donau
437273
20¢
per call
Austria -aschbach-markt
437476
20¢
per call
Austria -aspangberg-sankt peter
432642
20¢
per call
Austria -asparn an der zaya
432577
20¢
per call
Austria -assling
434855
20¢
per call
Austria -attersee
437666
20¢
per call
Austria -attnang-puchheim
437674
20¢
per call
Austria -atzenbrugg
432275
20¢
per call
Austria -atzmannsdorf
436470
20¢
per call
Austria -au im bregenzerwald
435515
20¢
per call
Austria -auersthal
432288
20¢
per call
Austria -außerfragant
434785
20¢
per call
Austria -außervillgraten
434843
20¢
per call
Austria -axams
435234
20¢
per call
Austria -bad aussee
433622
20¢
per call
Austria -bad bleiberg
434244
20¢
per call
Austria -bad fischau
432639
20¢
per call
Austria -bad gastein
436434
20¢
per call
Austria -bad gleichenberg
433159
20¢
per call
Austria -bad goisern
436135
20¢
per call
Austria -bad großpertholz
432857
20¢
per call
Austria -bad hall
437258
20¢
per call
Austria -bad hofgastein
436432
20¢
per call
Austria -bad ischl
436132
20¢
per call
Austria -bad kleinkirchheim
434240
20¢
per call
Austria -bad kreuzen
437266
20¢
per call
Austria -bad leonfelden
437213
20¢
per call
Austria -bad mitterndorf
433623
20¢
per call
Austria -bad radkersburg
433476
20¢
per call
Austria -bad sankt leonhard im lavanttal
434350
20¢
per call
Austria -bad sauerbrunn
432625
20¢
per call
Austria -bad schallerbach
437249
20¢
per call
Austria -bad vöslau
432540
20¢
per call
Austria -bad zell
437263
20¢
per call
Austria -baden
432252
20¢
per call
Austria -baumgartenberg
437269
20¢
per call
Austria -berndorf
432672
20¢
per call
Austria -bernhardsthal
432557
20¢
per call
Austria -bernstein
433354
20¢
per call
Austria -bezau
435514
20¢
per call
Austria -bichlbach
435674
20¢
per call
Austria -birkfeld
433174
20¢
per call
Austria -bischoffeld
433513
20¢
per call
Austria -bischofshofen
436462
20¢
per call
Austria -bleiburg
434235
20¢
per call
Austria -blindenmarkt
437473
20¢
per call
Austria -bludenz
435552
20¢
per call
Austria -bodensdorf
434243
20¢
per call
Austria -bramberg am wildkogel
436566
20¢
per call
Austria -brand
435559
20¢
per call
Austria -brand-nagelberg
432859
20¢
per call
Austria -brandenberg
435331
20¢
per call
Austria -braunau am inn
437722
20¢
per call
Austria -bregenz
435574
20¢
per call
Austria -breitenau am hochlantsch
433866
20¢
per call
Austria -breitenfurt bei wien
432239
20¢
per call
Austria -bretstein
433576
20¢
per call
Austria -brixlegg
435337
20¢
per call
Austria -bruck an der großglocknerstraße
436545
20¢
per call
Austria -bruck an der leitha
432162
20¢
per call
Austria -bruck an der mur
433862
20¢
per call
Austria -brunn an der wild
432989
20¢
per call
Austria -brückl
434214
20¢
per call
Austria -burgau
433383
20¢
per call
Austria -böheimkirchen
432743
20¢
per call
Austria -dalaas
435585
20¢
per call
Austria -damüls
435510
20¢
per call
Austria -dellach
434718
20¢
per call
Austria -dellach im drautal
434714
20¢
per call
Austria -deutsch brodersdorf
432255
20¢
per call
Austria -deutsch goritz
433474
20¢
per call
Austria -deutsch jahrndorf
432144
20¢
per call
Austria -deutsch schützen-eisenberg
433365
20¢
per call
Austria -deutsch-wagram
432247
20¢
per call
Austria -deutschkreutz
432613
20¢
per call
Austria -deutschlandsberg
433462
20¢
per call
Austria -dienten am hochkönig
436461
20¢
per call
Austria -dobersberg
432843
20¢
per call
Austria -dobl
433136
20¢
per call
Austria -donnersbach
433683
20¢
per call
Austria -donnersbachwald
433680
20¢
per call
Austria -doren
435516
20¢
per call
Austria -dorfgastein
436433
20¢
per call
Austria -dornbirn
435572
20¢
per call
Austria -draßburg
432686
20¢
per call
Austria -draßmarkt
432617
20¢
per call
Austria -drosendorf-zissersdorf
432915
20¢
per call
Austria -droß
432719
20¢
per call
Austria -drösing
432536
20¢
per call
Austria -dürnstein
432711
20¢
per call
Austria -ebbs
435373
20¢
per call
Austria -ebene reichenau
434275
20¢
per call
Austria -ebenfurth
432624
20¢
per call
Austria -ebensee
436133
20¢
per call
Austria -eberau
433323
20¢
per call
Austria -eberndorf
434236
20¢
per call
Austria -eberschwang
437753
20¢
per call
Austria -ebreichsdorf
432254
20¢
per call
Austria -edelschrott
433145
20¢
per call
Austria -eferding
437272
20¢
per call
Austria -egg
435512
20¢
per call
Austria -eggelsberg
437748
20¢
per call
Austria -eggenburg
432984
20¢
per call
Austria -eggerding
437767
20¢
per call
Austria -eggern
432863
20¢
per call
Austria -eggersdorf bei graz
433117
20¢
per call
Austria -ehrenhausen
433453
20¢
per call
Austria -ehrwald
435673
20¢
per call
Austria -eibiswald
433466
20¢
per call
Austria -eichgraben
432773
20¢
per call
Austria -eisenerz
433848
20¢
per call
Austria -eisenkappel-vellach
434238
20¢
per call
Austria -eisenstadt
432682
20¢
per call
Austria -elbigenalp
435634
20¢
per call
Austria -ellmau
435358
20¢
per call
Austria -elmen
435635
20¢
per call
Austria -els
432876
20¢
per call
Austria -enns
437223
20¢
per call
Austria -ernstbrunn
432576
20¢
per call
Austria -esternberg
437714
20¢
per call
Austria -eugendorf
436225
20¢
per call
Austria -euratsfeld
437474
20¢
per call
Austria -faak am see
434254
20¢
per call
Austria -faistenau
436228
20¢
per call
Austria -fehring
433155
20¢
per call
Austria -feichten
435475
20¢
per call
Austria -feistritz an der drau
434245
20¢
per call
Austria -feistritz im rosental
434228
20¢
per call
Austria -feldbach
433152
20¢
per call
Austria -feldkirch
435522
20¢
per call
Austria -feldkirchen an der donau
437233
20¢
per call
Austria -feldkirchen in kärnten
434276
20¢
per call
Austria -felixdorf
432628
20¢
per call
Austria -fels am wagram
432738
20¢
per call
Austria -ferlach
434227
20¢
per call
Austria -fieberbrunn
435354
20¢
per call
Austria -filzmoos
436453
20¢
per call
Austria -fischamend
432232
20¢
per call
Austria -fischbach
433170
20¢
per call
Austria -flachau
436457
20¢
per call
Austria -flattnitz
434269
20¢
per call
Austria -fließ
435449
20¢
per call
Austria -flinsbach
432741
20¢
per call
Austria -flirsch
435447
20¢
per call
Austria -fohnsdorf
433573
20¢
per call
Austria -frankenburg am hausruck
437683
20¢
per call
Austria -frankenfels
432725
20¢
per call
Austria -frankenmarkt
437684
20¢
per call
Austria -frauenkirchen
432172
20¢
per call
Austria -freistadt
437942
20¢
per call
Austria -fresing
433456
20¢
per call
Austria -friedberg
433339
20¢
per call
Austria -friedburg
437746
20¢
per call
Austria -friesach
434268
20¢
per call
Austria -frohnleiten
433126
20¢
per call
Austria -fulpmes
435225
20¢
per call
Austria -fusch an der großglocknerstraße
436546
20¢
per call
Austria -fuschl am see
436226
20¢
per call
Austria -fügen
435288
20¢
per call
Austria -fürnitz
434257
20¢
per call
Austria -fürstenfeld
433382
20¢
per call
Austria -gaaden
432237
20¢
per call
Austria -gaflenz
437353
20¢
per call
Austria -gaishorn am see
433617
20¢
per call
Austria -gallizien
434221
20¢
per call
Austria -gallneukirchen
437235
20¢
per call
Austria -galtür
435443
20¢
per call
Austria -gaming
437485
20¢
per call
Austria -gams bei hieflau
433637
20¢
per call
Austria -gansbach
432753
20¢
per call
Austria -gars am kamp
432985
20¢
per call
Austria -gaschurn
435558
20¢
per call
Austria -gasen
433171
20¢
per call
Austria -gaspoltshofen
437735
20¢
per call
Austria -gattendorf
432142
20¢
per call
Austria -gaweinstal
432574
20¢
per call
Austria -geistthal
433149
20¢
per call
Austria -gemmersdorf
434355
20¢
per call
Austria -geras
432912
20¢
per call
Austria -gerasdorf bei wien
432246
20¢
per call
Austria -gerlos
435284
20¢
per call
Austria -gföhl
432716
20¢
per call
Austria -ginzling
435286
20¢
per call
Austria -glanegg
434277
20¢
per call
Austria -gleinstätten
433457
20¢
per call
Austria -gleisdorf
433112
20¢
per call
Austria -globasnitz
434230
20¢
per call
Austria -gloggnitz
432662
20¢
per call
Austria -gmunden
437612
20¢
per call
Austria -gmünd
432852
20¢
per call
Austria -gmünd in kärnten
434732
20¢
per call
Austria -gnadendorf
432525
20¢
per call
Austria -gnas
433151
20¢
per call
Austria -gnesau
434278
20¢
per call
Austria -golling an der salzach
436244
20¢
per call
Austria -gols
432173
20¢
per call
Austria -gosau
436136
20¢
per call
Austria -grafenschlag
432875
20¢
per call
Austria -grafenstein
434225
20¢
per call
Austria -grainbrunn
432877
20¢
per call
Austria -gramatneusiedl
432234
20¢
per call
Austria -gratkorn
433124
20¢
per call
Austria -graz
43316
20¢
per call
Austria -greifenburg
434712
20¢
per call
Austria -grein
437268
20¢
per call
Austria -greith
433885
20¢
per call
Austria -gresten
437487
20¢
per call
Austria -gries am brenner
435274
20¢
per call
Austria -gries im sellrain
435236
20¢
per call
Austria -grieskirchen
437248
20¢
per call
Austria -griffen
434233
20¢
per call
Austria -grimmenstein
432644
20¢
per call
Austria -groß gerungs
432812
20¢
per call
Austria -groß sankt florian
433464
20¢
per call
Austria -groß-enzersdorf
432249
20¢
per call
Austria -groß-siegharts
432847
20¢
per call
Austria -großarl
436414
20¢
per call
Austria -großglobnitz
432823
20¢
per call
Austria -großgmain
436247
20¢
per call
Austria -großkirchheim
434825
20¢
per call
Austria -großkrut
432556
20¢
per call
Austria -großmugl
432268
20¢
per call
Austria -großpetersdorf
433362
20¢
per call
Austria -großraming
437254
20¢
per call
Austria -großrußbach
432263
20¢
per call
Austria -großschönau
432815
20¢
per call
Austria -großsteinbach
433386
20¢
per call
Austria -großtraberg
437218
20¢
per call
Austria -großweikersdorf
432955
20¢
per call
Austria -gröbming
433685
20¢
per call
Austria -grödig
436246
20¢
per call
Austria -grünau im almtal
437616
20¢
per call
Austria -grünbach am schneeberg
432637
20¢
per call
Austria -grünburg
437257
20¢
per call
Austria -gschnitz
435276
20¢
per call
Austria -gummern
434258
20¢
per call
Austria -gunskirchen
437246
20¢
per call
Austria -guntersdorf
432951
20¢
per call
Austria -gurten
437757
20¢
per call
Austria -gutau
437946
20¢
per call
Austria -gutenstein
432634
20¢
per call
Austria -gänserndorf
432282
20¢
per call
Austria -göllersdorf
432954
20¢
per call
Austria -göpfritz an der wild
432825
20¢
per call
Austria -göriach
436483
20¢
per call
Austria -göstling an der ybbs
437484
20¢
per call
Austria -götzis
435523
20¢
per call
Austria -güssing
433322
20¢
per call
Austria -haag
437434
20¢
per call
Austria -haag am hausruck
437732
20¢
per call
Austria -hadersdorf am kamp
432735
20¢
per call
Austria -haibach ob der donau
437279
20¢
per call
Austria -hainburg a.d. donau
432165
20¢
per call
Austria -hainfeld
432764
20¢
per call
Austria -hall in tirol
435223
20¢
per call
Austria -hallein
436245
20¢
per call
Austria -hallstatt
436134
20¢
per call
Austria -hannersdorf
433364
20¢
per call
Austria -hargelsberg
437225
20¢
per call
Austria -hartberg
433332
20¢
per call
Austria -haugsdorf
432944
20¢
per call
Austria -haus
433686
20¢
per call
Austria -hausleiten
432265
20¢
per call
Austria -hausmening (neuhofen an der ybbs)
437475
20¢
per call
Austria -heidenreichstein
432862
20¢
per call
Austria -heiligenblut
434824
20¢
per call
Austria -heiligenkreuz am waasen
433134
20¢
per call
Austria -heiligenkreuz im lafnitztal
433325
20¢
per call
Austria -helfenberg
437216
20¢
per call
Austria -hellmonsödt
437215
20¢
per call
Austria -henndorf am wallersee
436214
20¢
per call
Austria -hermagor
434282
20¢
per call
Austria -herrnbaumgarten
432555
20¢
per call
Austria -herzogenburg
432782
20¢
per call
Austria -herzogsdorf
437231
20¢
per call
Austria -hieflau
433634
20¢
per call
Austria -hinterriß
435245
20¢
per call
Austria -hintersee
436224
20¢
per call
Austria -hinterstoder
437564
20¢
per call
Austria -hirschbach im mühlkreis
437948
20¢
per call
Austria -hirschegg
433141
20¢
per call
Austria -hittisau
435513
20¢
per call
Austria -hochfilzen
435359
20¢
per call
Austria -hochfügen
435280
20¢
per call
Austria -hochneukirchen
432648
20¢
per call
Austria -hof bei salzburg
436229
20¢
per call
Austria -hofkirchen an der trattnach
437734
20¢
per call
Austria -hofkirchen im mühlkreis
437285
20¢
per call
Austria -hohenau an der march
432535
20¢
per call
Austria -hohenberg
432767
20¢
per call
Austria -hohenems
435576
20¢
per call
Austria -hohentauern
433618
20¢
per call
Austria -hohenwarth
432957
20¢
per call
Austria -hollabrunn
432952
20¢
per call
Austria -hollenstein an der ybbs
437445
20¢
per call
Austria -hopfgarten im brixental
435335
20¢
per call
Austria -horitschon
432610
20¢
per call
Austria -horn
432982
20¢
per call
Austria -hornstein
432689
20¢
per call
Austria -huben
434872
20¢
per call
Austria -hägerau
435633
20¢
per call
Austria -häusling
435289
20¢
per call
Austria -höchst
435578
20¢
per call
Austria -hörbranz
435573
20¢
per call
Austria -hörsching
437221
20¢
per call
Austria -hötzelsdorf
432913
20¢
per call
Austria -hürth
433475
20¢
per call
Austria -hüttau
436458
20¢
per call
Austria -hüttenberg
434263
20¢
per call
Austria -hüttschlag
436417
20¢
per call
Austria -idolsberg
432731
20¢
per call
Austria -ilz
433385
20¢
per call
Austria -imst
435412
20¢
per call
Austria -innerkrems
434736
20¢
per call
Austria -innermanzing
432774
20¢
per call
Austria -innsbruck
43512
20¢
per call
Austria -irnfritz
432986
20¢
per call
Austria -ischgl
435444
20¢
per call
Austria -japons
432914
20¢
per call
Austria -jenbach
435244
20¢
per call
Austria -jennersdorf
433329
20¢
per call
Austria -jochberg
435355
20¢
per call
Austria -johnsbach
433611
20¢
per call
Austria -jois
432160
20¢
per call
Austria -judenburg
433572
20¢
per call
Austria -jungholz
435676
20¢
per call
Austria -kainach bei voitsberg
433148
20¢
per call
Austria -kaindorf
433334
20¢
per call
Austria -kals am großglockner
434876
20¢
per call
Austria -kalsdorf bei graz
433135
20¢
per call
Austria -kaltenbach
435283
20¢
per call
Austria -kaltenleutgeben
432238
20¢
per call
Austria -kalwang
433846
20¢
per call
Austria -kammern im liesingtal
433844
20¢
per call
Austria -kapfenstein
433157
20¢
per call
Austria -kappl
435445
20¢
per call
Austria -kaprun
436547
20¢
per call
Austria -karlstein an der thaya
432844
20¢
per call
Austria -karlstift
432816
20¢
per call
Austria -kartitsch
434848
20¢
per call
Austria -kasten bei böheimkirchen
432744
20¢
per call
Austria -katsch an der mur
433588
20¢
per call
Austria -kaumberg
432765
20¢
per call
Austria -kautendorf
432524
20¢
per call
Austria -kautzen
432864
20¢
per call
Austria -kefermarkt
437947
20¢
per call
Austria -kematen am innbach
437247
20¢
per call
Austria -kematen an der krems
437228
20¢
per call
Austria -kematen an der ybbs
437448
20¢
per call
Austria -kematen in tirol
435232
20¢
per call
Austria -kilb
432748
20¢
per call
Austria -kindberg
433865
20¢
per call
Austria -kirchbach
434284
20¢
per call
Austria -kirchbach in steiermark
433116
20¢
per call
Austria -kirchberg am wagram
432279
20¢
per call
Austria -kirchberg am walde
432854
20¢
per call
Austria -kirchberg am wechsel
432641
20¢
per call
Austria -kirchberg an der pielach
432722
20¢
per call
Austria -kirchberg bei mattighofen
437747
20¢
per call
Austria -kirchberg in tirol
435357
20¢
per call
Austria -kirchdorf an der krems
437582
20¢
per call
Austria -kirchham
437619
20¢
per call
Austria -kirchschlag in der buckligen welt
432646
20¢
per call
Austria -kirchstetten (neudorf bei staatz)
432523
20¢
per call
Austria -kittsee
432143
20¢
per call
Austria -kitzbühel
435356
20¢
per call
Austria -klagenfurt
43463
20¢
per call
Austria -klaus an der pyhrnbahn
437585
20¢
per call
Austria -klausen-leopoldsdorf
432257
20¢
per call
Austria -kleblach-lind
434768
20¢
per call
Austria -klein sankt paul
434264
20¢
per call
Austria -kleinarl
436418
20¢
per call
Austria -kleinlobming
433516
20¢
per call
Austria -kleinreifling
437357
20¢
per call
Austria -kleinwarasdorf
432614
20¢
per call
Austria -kleinzell
432766
20¢
per call
Austria -klosterneuburg
432243
20¢
per call
Austria -klösterle
435582
20¢
per call
Austria -knittelfeld
433512
20¢
per call
Austria -kohfidisch
433366
20¢
per call
Austria -kopfing im innkreis
437763
20¢
per call
Austria -kopfstetten
432214
20¢
per call
Austria -koppl
436221
20¢
per call
Austria -korneuburg
432262
20¢
per call
Austria -kottes
432873
20¢
per call
Austria -krakaudorf
433535
20¢
per call
Austria -kraubath an der mur
433832
20¢
per call
Austria -krems an der donau
432732
20¢
per call
Austria -kremsbrücke
434735
20¢
per call
Austria -kremsmünster
437583
20¢
per call
Austria -krieglach
433855
20¢
per call
Austria -krimml
436564
20¢
per call
Austria -krispl
436240
20¢
per call
Austria -krottendorf
433143
20¢
per call
Austria -krumbach (niederösterreich)
432647
20¢
per call
Austria -krumpendorf am wörther see
434229
20¢
per call
Austria -kufstein
435372
20¢
per call
Austria -kukmirn
433328
20¢
per call
Austria -kumberg
433132
20¢
per call
Austria -kundl
435338
20¢
per call
Austria -köflach
433144
20¢
per call
Austria -königswiesen
437955
20¢
per call
Austria -kössen
435375
20¢
per call
Austria -kötschach-mauthen
434715
20¢
per call
Austria -köttmannsdorf
434220
20¢
per call
Austria -kühtai
435239
20¢
per call
Austria -laa an der thaya
432522
20¢
per call
Austria -laakirchen
437613
20¢
per call
Austria -lackendorf
432619
20¢
per call
Austria -ladendorf
432575
20¢
per call
Austria -lafnitz
433338
20¢
per call
Austria -lambach
437245
20¢
per call
Austria -lambrechten
437765
20¢
per call
Austria -lamprechtshausen
436274
20¢
per call
Austria -landeck
435442
20¢
per call
Austria -landl
433633
20¢
per call
Austria -langau (gaming)
437480
20¢
per call
Austria -langen bei bregenz
435575
20¢
per call
Austria -langenlois
432734
20¢
per call
Austria -langenwang
433854
20¢
per call
Austria -langenzersdorf
432244
20¢
per call
Austria -langschlag
432814
20¢
per call
Austria -lassee
432213
20¢
per call
Austria -laterns
435526
20¢
per call
Austria -launsdorf
434213
20¢
per call
Austria -lavamünd
434356
20¢
per call
Austria -lech
435583
20¢
per call
Austria -leibnitz
433452
20¢
per call
Austria -lembach im mühlkreis
437286
20¢
per call
Austria -lend
436416
20¢
per call
Austria -leoben
433842
20¢
per call
Austria -leobersdorf
432256
20¢
per call
Austria -leogang
436583
20¢
per call
Austria -leopoldsdorf im marchfelde
432216
20¢
per call
Austria -lesachtal
434716
20¢
per call
Austria -lessach
436484
20¢
per call
Austria -leutasch
435214
20¢
per call
Austria -leutschach
433454
20¢
per call
Austria -lichtenau im waldviertel
432718
20¢
per call
Austria -lichtenberg
437239
20¢
per call
Austria -lichtenegg
432643
20¢
per call
Austria -liebenau
437953
20¢
per call
Austria -liebenfels
434215
20¢
per call
Austria -lienz
434852
20¢
per call
Austria -liezen
433612
20¢
per call
Austria -lilienfeld
432762
20¢
per call
Austria -linz
43732
20¢
per call
Austria -litschau
432865
20¢
per call
Austria -litzelsdorf
433358
20¢
per call
Austria -lochen
437745
20¢
per call
Austria -lockenhaus
432616
20¢
per call
Austria -lofer
436588
20¢
per call
Austria -loipersdorf-kitzladen
433359
20¢
per call
Austria -loosdorf
432754
20¢
per call
Austria -losenstein
437255
20¢
per call
Austria -lunz am see
437486
20¢
per call
Austria -lustenau
435577
20¢
per call
Austria -lutzmannsburg
432615
20¢
per call
Austria -längenfeld
435253
20¢
per call
Austria -maissau
432958
20¢
per call
Austria -mallnitz
434784
20¢
per call
Austria -malta
434733
20¢
per call
Austria -mandling
436454
20¢
per call
Austria -mank
432755
20¢
per call
Austria -mannersdorf am leithagebirge
432168
20¢
per call
Austria -mannersdorf an der rabnitz
432611
20¢
per call
Austria -marbach an der donau
437413
20¢
per call
Austria -marchegg
432285
20¢
per call
Austria -marchtrenk
437243
20¢
per call
Austria -maria alm am steinernen meer
436584
20¢
per call
Austria -maria neustift
437250
20¢
per call
Austria -maria saal
434223
20¢
per call
Austria -maria schmolln
437743
20¢
per call
Austria -maria-lanzendorf
432235
20¢
per call
Austria -mariapfarr
436473
20¢
per call
Austria -mariazell
433882
20¢
per call
Austria -markgrafneusiedl
432248
20¢
per call
Austria -markt allhau
433356
20¢
per call
Austria -markt hartmannsdorf
433114
20¢
per call
Austria -markt piesting
432633
20¢
per call
Austria -markt sankt martin
432618
20¢
per call
Austria -martinsberg
432874
20¢
per call
Austria -matrei am brenner
435273
20¢
per call
Austria -matrei in osttirol
434875
20¢
per call
Austria -mattersburg
432626
20¢
per call
Austria -mattighofen
437742
20¢
per call
Austria -mattsee
436217
20¢
per call
Austria -matzen
432289
20¢
per call
Austria -mauerkirchen
437724
20¢
per call
Austria -maurach
435243
20¢
per call
Austria -mautern in steiermark
433845
20¢
per call
Austria -mauterndorf
436472
20¢
per call
Austria -mauthausen
437238
20¢
per call
Austria -mayrhofen
435285
20¢
per call
Austria -melk
432752
20¢
per call
Austria -mellau
435518
20¢
per call
Austria -metnitz
434267
20¢
per call
Austria -mettmach
437755
20¢
per call
Austria -mieming
435264
20¢
per call
Austria -miklauzhof
434237
20¢
per call
Austria -millstatt
434766
20¢
per call
Austria -mistelbach
432572
20¢
per call
Austria -mitterdorf im mürztal
433858
20¢
per call
Austria -mittersill
436562
20¢
per call
Austria -mittertrixen
434231
20¢
per call
Austria -modriach
433146
20¢
per call
Austria -molln
437584
20¢
per call
Austria -mondsee
436232
20¢
per call
Austria -moorbad harbach
432858
20¢
per call
Austria -muhr
436479
20¢
per call
Austria -munderfing
437744
20¢
per call
Austria -murau
433532
20¢
per call
Austria -mureck
433472
20¢
per call
Austria -möderbrugg
433571
20¢
per call
Austria -mödling
432236
20¢
per call
Austria -möllbrücke
434769
20¢
per call
Austria -mönchdorf
437267
20¢
per call
Austria -mönichkirchen
432649
20¢
per call
Austria -mörtschach
434826
20¢
per call
Austria -mühlbach am hochkönig
436467
20¢
per call
Austria -mühlen
433586
20¢
per call
Austria -münchendorf
432259
20¢
per call
Austria -münzkirchen
437716
20¢
per call
Austria -mürzsteg
433859
20¢
per call
Austria -mürzzuschlag
433852
20¢
per call
Austria -nappersdorf
432953
20¢
per call
Austria -nassereith
435265
20¢
per call
Austria -nauders
435473
20¢
per call
Austria -navis
435278
20¢
per call
Austria -nenzing
435525
20¢
per call
Austria -nestelbach
433133
20¢
per call
Austria -neuberg an der mürz
433857
20¢
per call
Austria -neufelden
437282
20¢
per call
Austria -neuhofen an der krems
437227
20¢
per call
Austria -neukirchen (altmünster)
437618
20¢
per call
Austria -neukirchen am großvenediger
436565
20¢
per call
Austria -neukirchen am walde
437278
20¢
per call
Austria -neukirchen an der enknach
437729
20¢
per call
Austria -neulengbach
432772
20¢
per call
Austria -neumarkt am wallersee
436216
20¢
per call
Austria -neumarkt im hausruckkreis
437733
20¢
per call
Austria -neumarkt im mühlkreis
437941
20¢
per call
Austria -neumarkt in steiermark
433584
20¢
per call
Austria -neunkirchen
432635
20¢
per call
Austria -neupölla
432988
20¢
per call
Austria -neusiedl am see
432167
20¢
per call
Austria -neusiedl an der zaya
432533
20¢
per call
Austria -neustadtl an der donau
437471
20¢
per call
Austria -neustift im stubaital
435226
20¢
per call
Austria -nickelsdorf
432146
20¢
per call
Austria -niederfellabrunn
432269
20¢
per call
Austria -niederfladnitz
432949
20¢
per call
Austria -niedernsill
436548
20¢
per call
Austria -niedersulz
432534
20¢
per call
Austria -nikolsdorf
434858
20¢
per call
Austria -nußdorf am haunsberg
436276
20¢
per call
Austria -nötsch im gailtal
434256
20¢
per call
Austria -obdach
433578
20¢
per call
Austria -ober-grafendorf
432747
20¢
per call
Austria -oberdrauburg
434710
20¢
per call
Austria -oberhofen am irrsee
436213
20¢
per call
Austria -oberkappel
437284
20¢
per call
Austria -obernberg am inn
437758
20¢
per call
Austria -oberndorf an der melk
437483
20¢
per call
Austria -oberndorf bei salzburg
436272
20¢
per call
Austria -oberpullendorf
432612
20¢
per call
Austria -oberschützen
433353
20¢
per call
Austria -obersiebenbrunn
432286
20¢
per call
Austria -obertauern
436456
20¢
per call
Austria -obertilliach
434847
20¢
per call
Austria -obertraun
436131
20¢
per call
Austria -obertrum am see
436219
20¢
per call
Austria -obervellach
434782
20¢
per call
Austria -oberwaltersdorf
432253
20¢
per call
Austria -oberwang
436233
20¢
per call
Austria -oberwart
433352
20¢
per call
Austria -oberweiden
432284
20¢
per call
Austria -oberwölbling
432786
20¢
per call
Austria -oberwölz
433581
20¢
per call
Austria -obritz
432943
20¢
per call
Austria -oed-oehling
437478
20¢
per call
Austria -oetz
435252
20¢
per call
Austria -oppenberg
433619
20¢
per call
Austria -opponitz
437444
20¢
per call
Austria -orth an der donau
432212
20¢
per call
Austria -ostermiething
436278
20¢
per call
Austria -ottenschlag
432872
20¢
per call
Austria -ottensheim
437234
20¢
per call
Austria -ottnang am hausruck
437676
20¢
per call
Austria -pabneukirchen
437265
20¢
per call
Austria -paldau
433150
20¢
per call
Austria -palfau
433638
20¢
per call
Austria -parndorf
432166
20¢
per call
Austria -passail
433179
20¢
per call
Austria -paudorf
432736
20¢
per call
Austria -peggau
433127
20¢
per call
Austria -peilstein im mühlviertel
437287
20¢
per call
Austria -perg
437262
20¢
per call
Austria -pernegg an der mur
433867
20¢
per call
Austria -pernitz
432632
20¢
per call
Austria -perschling
432784
20¢
per call
Austria -petronell-carnuntum
432163
20¢
per call
Austria -pettenbach
437586
20¢
per call
Austria -pettneu am arlberg
435448
20¢
per call
Austria -peuerbach
437276
20¢
per call
Austria -pfaffenschlag bei waidhofen a.d.thaya
432848
20¢
per call
Austria -pfunds
435474
20¢
per call
Austria -pichl-kainisch
433624
20¢
per call
Austria -piesendorf
436549
20¢
per call
Austria -pinkafeld
433357
20¢
per call
Austria -pischeldorf
434224
20¢
per call
Austria -pischelsdorf in der steiermark
433113
20¢
per call
Austria -pitten
432627
20¢
per call
Austria -podersdorf am see
432177
20¢
per call
Austria -pottendorf
432623
20¢
per call
Austria -poysdorf
432552
20¢
per call
Austria -pram
437736
20¢
per call
Austria -prebl
434353
20¢
per call
Austria -preding
433185
20¢
per call
Austria -pregarten
437236
20¢
per call
Austria -prein an der rax
432665
20¢
per call
Austria -preitenegg
434354
20¢
per call
Austria -prellenkirchen
432145
20¢
per call
Austria -preßbaum
432233
20¢
per call
Austria -prinzersdorf
432749
20¢
per call
Austria -probstdorf
432215
20¢
per call
Austria -prutz
435472
20¢
per call
Austria -prägraten am großvenediger
434877
20¢
per call
Austria -puch bei weiz
433177
20¢
per call
Austria -puchberg am schneeberg
432636
20¢
per call
Austria -puchenstuben
432726
20¢
per call
Austria -pulkau
432946
20¢
per call
Austria -purbach am neusiedler see
432683
20¢
per call
Austria -purgstall an der erlauf
437489
20¢
per call
Austria -purkersdorf
432231
20¢
per call
Austria -pusterwald
433574
20¢
per call
Austria -pyhra
432745
20¢
per call
Austria -pöchlarn
432757
20¢
per call
Austria -pöggstall
432758
20¢
per call
Austria -pölfing-brunn
433465
20¢
per call
Austria -pöllau
433335
20¢
per call
Austria -pöls
433579
20¢
per call
Austria -pörtschach am wörther see
434272
20¢
per call
Austria -pöttsching
432631
20¢
per call
Austria -raab
437762
20¢
per call
Austria -raabs an der thaya
432846
20¢
per call
Austria -rabenstein an der pielach
432723
20¢
per call
Austria -radenthein
434246
20¢
per call
Austria -radmer
433635
20¢
per call
Austria -radstadt
436452
20¢
per call
Austria -raggal
435553
20¢
per call
Austria -rainbach im mühlkreis
437949
20¢
per call
Austria -ramingstein
436475
20¢
per call
Austria -rappottenstein
432828
20¢
per call
Austria -rastenfeld
432826
20¢
per call
Austria -ratten
433173
20¢
per call
Austria -rauris
436544
20¢
per call
Austria -rechnitz
433363
20¢
per call
Austria -reichenau
432666
20¢
per call
Austria -reichenau im mühlkreis
437211
20¢
per call
Austria -reichenfels
434359
20¢
per call
Austria -reichenthal
437214
20¢
per call
Austria -reidling
432276
20¢
per call
Austria -reifnitz
434273
20¢
per call
Austria -reißeck
434783
20¢
per call
Austria -rennweg
434734
20¢
per call
Austria -retz
432942
20¢
per call
Austria -reutte
435672
20¢
per call
Austria -ried am riederberg
432271
20¢
per call
Austria -ried im innkreis
437752
20¢
per call
Austria -ried im traunkreis
437588
20¢
per call
Austria -riedau
437764
20¢
per call
Austria -riegersburg
433153
20¢
per call
Austria -riegersburg (hardegg)
432916
20¢
per call
Austria -riezlern
435517
20¢
per call
Austria -rohrau
432164
20¢
per call
Austria -rohrbach in oberösterreich
437289
20¢
per call
Austria -roppen
435417
20¢
per call
Austria -rosenau am hengstpaß
437566
20¢
per call
Austria -rossatz
432714
20¢
per call
Austria -rothenthurn
434767
20¢
per call
Austria -rottenmann
433614
20¢
per call
Austria -ruden
434234
20¢
per call
Austria -rust
432685
20¢
per call
Austria -rußbach am paß gschütt
436242
20¢
per call
Austria -rückersdorf (harmannsdorf)
432264
20¢
per call
Austria -saalbach
436541
20¢
per call
Austria -saalfelden am steinernen meer
436582
20¢
per call
Austria -salla
433147
20¢
per call
Austria -salzburg
43662
20¢
per call
Austria -sandl
437944
20¢
per call
Austria -sankt aegidi
437717
20¢
per call
Austria -sankt aegyd am neuwalde
432768
20¢
per call
Austria -sankt andrä
434358
20¢
per call
Austria -sankt andrä-wördern
432242
20¢
per call
Austria -sankt anna am aigen
433158
20¢
per call
Austria -sankt anton am arlberg
435446
20¢
per call
Austria -sankt florian
437224
20¢
per call
Austria -sankt gallen
433632
20¢
per call
Austria -sankt gallenkirch
435557
20¢
per call
Austria -sankt georgen am walde
437954
20¢
per call
Austria -sankt georgen an der gusen
437237
20¢
per call
Austria -sankt georgen an der stiefing
433183
20¢
per call
Austria -sankt georgen im attergau
437667
20¢
per call
Austria -sankt georgen ob murau
433537
20¢
per call
Austria -sankt gilgen
436227
20¢
per call
Austria -sankt jakob im rosental
434253
20¢
per call
Austria -sankt jakob in defereggen
434873
20¢
per call
Austria -sankt jodok am brenner
435279
20¢
per call
Austria -sankt johann am tauern
433575
20¢
per call
Austria -sankt johann im pongau
436412
20¢
per call
Austria -sankt johann in tirol
435352
20¢
per call
Austria -sankt kanzian am klopeiner see
434239
20¢
per call
Austria -sankt katharein an der laming
433869
20¢
per call
Austria -sankt koloman
436241
20¢
per call
Austria -sankt lambrecht
433585
20¢
per call
Austria -sankt leonhard am forst
432756
20¢
per call
Austria -sankt leonhard am hornerwald
432987
20¢
per call
Austria -sankt leonhard im pitztal
435413
20¢
per call
Austria -sankt lorenzen am wechsel
433331
20¢
per call
Austria -sankt lorenzen bei knittelfeld
433515
20¢
per call
Austria -sankt marein bei graz
433119
20¢
per call
Austria -sankt marein im mürztal
433864
20¢
per call
Austria -sankt margareten im rosental
434226
20¢
per call
Austria -sankt margarethen im burgenland
432680
20¢
per call
Austria -sankt margarethen im lungau
436476
20¢
per call
Austria -sankt martin am grimming
433684
20¢
per call
Austria -sankt martin am wöllmißberg
433140
20¢
per call
Austria -sankt martin im innkreis
437751
20¢
per call
Austria -sankt martin im mühlkreis
437232
20¢
per call
Austria -sankt michael im burgenland
433327
20¢
per call
Austria -sankt michael im lungau
436477
20¢
per call
Austria -sankt michael in obersteiermark
433843
20¢
per call
Austria -sankt nikolai im sölktal
433689
20¢
per call
Austria -sankt oswald bei freistadt
437945
20¢
per call
Austria -sankt oswald bei plankenwarth
433123
20¢
per call
Austria -sankt oswald im freiland
433469
20¢
per call
Austria -sankt oswald ob eibiswald
433468
20¢
per call
Austria -sankt pankraz
437565
20¢
per call
Austria -sankt pantaleon
436277
20¢
per call
Austria -sankt paul im lavanttal
434357
20¢
per call
Austria -sankt peter am kammersberg
433536
20¢
per call
Austria -sankt peter am ottersbach
433477
20¢
per call
Austria -sankt peter in der au
437477
20¢
per call
Austria -sankt pölten
432742
20¢
per call
Austria -sankt ruprecht an der raab
433178
20¢
per call
Austria -sankt stefan im gailtal
434283
20¢
per call
Austria -sankt valentin
437435
20¢
per call
Austria -sankt veit an der glan
434212
20¢
per call
Austria -sankt veit an der gölsen
432763
20¢
per call
Austria -sankt veit im mühlkreis
437217
20¢
per call
Austria -sankt veit in defereggen
434879
20¢
per call
Austria -sankt wolfgang im salzkammergut
436138
20¢
per call
Austria -sarleinsbach
437283
20¢
per call
Austria -satteins
435524
20¢
per call
Austria -sattledt
437244
20¢
per call
Austria -schardenberg
437713
20¢
per call
Austria -scharnitz
435213
20¢
per call
Austria -scharnstein
437615
20¢
per call
Austria -scheibbs
437482
20¢
per call
Austria -scheifling
433582
20¢
per call
Austria -schiedlberg
437251
20¢
per call
Austria -schladming
433687
20¢
per call
Austria -schottwien
432663
20¢
per call
Austria -schrems
432853
20¢
per call
Austria -schruns
435556
20¢
per call
Austria -schröcken
435519
20¢
per call
Austria -schwadorf
432230
20¢
per call
Austria -schwanberg
433467
20¢
per call
Austria -schwand im innkreis
437728
20¢
per call
Austria -schwanenstadt
437673
20¢
per call
Austria -schwarzach im pongau
436415
20¢
per call
Austria -schwarzau im gebirge
432667
20¢
per call
Austria -schwarzenau
432849
20¢
per call
Austria -schwarzenbach an der pielach
432724
20¢
per call
Austria -schwarzenberg am böhmerwald
437280
20¢
per call
Austria -schwaz
435242
20¢
per call
Austria -schweiggers
432829
20¢
per call
Austria -schärding
437712
20¢
per call
Austria -schönau im mühlkreis
437261
20¢
per call
Austria -schönbach
432827
20¢
per call
Austria -schönberg am kamp
432733
20¢
per call
Austria -schönberg-lachtal
433587
20¢
per call
Austria -schönwies
435418
20¢
per call
Austria -schützen am gebirge
432684
20¢
per call
Austria -sebersdorf
433333
20¢
per call
Austria -seckau
433514
20¢
per call
Austria -see
435441
20¢
per call
Austria -seefeld in tirol
435212
20¢
per call
Austria -seekirchen am wallersee
436212
20¢
per call
Austria -seewalchen am attersee
437662
20¢
per call
Austria -sellrain
435230
20¢
per call
Austria -selzthal
433616
20¢
per call
Austria -semmering
432664
20¢
per call
Austria -serfaus
435476
20¢
per call
Austria -siegendorf
432687
20¢
per call
Austria -sieggraben
432621
20¢
per call
Austria -sieghartskirchen
432274
20¢
per call
Austria -sierndorf
432267
20¢
per call
Austria -sierning
437259
20¢
per call
Austria -sigmundsherberg
432983
20¢
per call
Austria -sillian
434842
20¢
per call
Austria -silz
435263
20¢
per call
Austria -sinabelkirchen
433118
20¢
per call
Austria -sipbachzell
437240
20¢
per call
Austria -sirnitz
434279
20¢
per call
Austria -sitzendorf an der schmida
432959
20¢
per call
Austria -soboth
433460
20¢
per call
Austria -sonntag
435554
20¢
per call
Austria -spital am pyhrn
437563
20¢
per call
Austria -spital am semmering
433853
20¢
per call
Austria -spittal an der drau
434762
20¢
per call
Austria -spitz
432713
20¢
per call
Austria -stadl an der mur
433534
20¢
per call
Austria -stadtschlaining
433355
20¢
per call
Austria -stainach
433682
20¢
per call
Austria -stainz
433463
20¢
per call
Austria -stanzach
435632
20¢
per call
Austria -stegersbach
433326
20¢
per call
Austria -steinach am brenner
435272
20¢
per call
Austria -steinakirchen am forst
437488
20¢
per call
Austria -steinbach am attersee
437663
20¢
per call
Austria -steinberg am rofan
435248
20¢
per call
Austria -steinbrunn
432688
20¢
per call
Austria -steinerkirchen an der traun
437241
20¢
per call
Austria -steinfeld
434717
20¢
per call
Austria -steuerberg
434271
20¢
per call
Austria -steyr
437252
20¢
per call
Austria -stockenboi
434761
20¢
per call
Austria -stockerau
432266
20¢
per call
Austria -straden
433473
20¢
per call
Austria -strasshof an der nordbahn
432287
20¢
per call
Austria -straßburg
434266
20¢
per call
Austria -straßwalchen
436215
20¢
per call
Austria -strem
433324
20¢
per call
Austria -strengberg
437432
20¢
per call
Austria -strobl
436137
20¢
per call
Austria -stronsdorf
432526
20¢
per call
Austria -stubenberg
433176
20¢
per call
Austria -studenzen
433115
20¢
per call
Austria -stützenhofen
432554
20¢
per call
Austria -suben
437711
20¢
per call
Austria -söchau
433387
20¢
per call
Austria -söding
433137
20¢
per call
Austria -sölden
435254
20¢
per call
Austria -söll
435333
20¢
per call
Austria -tadten
432176
20¢
per call
Austria -tamsweg
436474
20¢
per call
Austria -tannheim
435675
20¢
per call
Austria -taufkirchen an der pram
437719
20¢
per call
Austria -tauplitz
433688
20¢
per call
Austria -taxenbach
436543
20¢
per call
Austria -techendorf
434713
20¢
per call
Austria -telfs
435262
20¢
per call
Austria -ternberg
437256
20¢
per call
Austria -ternitz
432630
20¢
per call
Austria -terz
433883
20¢
per call
Austria -thalgau
436235
20¢
per call
Austria -theras
432947
20¢
per call
Austria -thiersee
435376
20¢
per call
Austria -thüringen
435550
20¢
per call
Austria -tiefenfucha
432739
20¢
per call
Austria -traboch
433833
20¢
per call
Austria -tragöß
433868
20¢
per call
Austria -trahütten
433461
20¢
per call
Austria -traismauer
432783
20¢
per call
Austria -traun
437229
20¢
per call
Austria -traunkirchen
437617
20¢
per call
Austria -traunstein
432878
20¢
per call
Austria -trautmannsdorf an der leitha
432169
20¢
per call
Austria -treffen
434248
20¢
per call
Austria -treibach
434262
20¢
per call
Austria -tresdorf (rangersdorf)
434823
20¢
per call
Austria -trieben
433615
20¢
per call
Austria -trins
435275
20¢
per call
Austria -trofaiach
433847
20¢
per call
Austria -tröpolach
434285
20¢
per call
Austria -tulbing
432273
20¢
per call
Austria -tulln an der donau
432272
20¢
per call
Austria -turnau
433863
20¢
per call
Austria -turrach
433533
20¢
per call
Austria -tux
435287
20¢
per call
Austria -tweng
436471
20¢
per call
Austria -tösens
435477
20¢
per call
Austria -türnitz
432769
20¢
per call
Austria -ulrichsberg
437288
20¢
per call
Austria -umhausen
435255
20¢
per call
Austria -unken
436589
20¢
per call
Austria -unter-meisling
432717
20¢
per call
Austria -unterach am attersee
437665
20¢
per call
Austria -untergurgl
435256
20¢
per call
Austria -unterlaussa
433631
20¢
per call
Austria -untertauern
436455
20¢
per call
Austria -unterweißenbach
437956
20¢
per call
Austria -unzmarkt
433583
20¢
per call
Austria -uttendorf
436563
20¢
per call
Austria -veitsch
433856
20¢
per call
Austria -velden am wörther see
434274
20¢
per call
Austria -velm-götzendorf
432538
20¢
per call
Austria -villach
434242
20¢
per call
Austria -vils
435677
20¢
per call
Austria -virgen
434874
20¢
per call
Austria -vitis
432841
20¢
per call
Austria -voitsberg
433142
20¢
per call
Austria -vorau
433337
20¢
per call
Austria -vorchdorf
437614
20¢
per call
Austria -vordernberg
433849
20¢
per call
Austria -vorderweißenbach
437219
20¢
per call
Austria -vöcklabruck
437672
20¢
per call
Austria -vöcklamarkt
437682
20¢
per call
Austria -völkermarkt
434232
20¢
per call
Austria -wagrain
436413
20¢
per call
Austria -waidhofen an der thaya
432842
20¢
per call
Austria -waidhofen an der ybbs
437442
20¢
per call
Austria -waidring
435353
20¢
per call
Austria -waizenkirchen
437277
20¢
per call
Austria -walchsee
435374
20¢
per call
Austria -wald am schoberpaß
433834
20¢
per call
Austria -waldbach
433336
20¢
per call
Austria -waldenstein
432855
20¢
per call
Austria -waldhausen
437260
20¢
per call
Austria -waldkirchen am wesen
437718
20¢
per call
Austria -waldzell
437754
20¢
per call
Austria -wallern im burgenland
432174
20¢
per call
Austria -wallsee
437433
20¢
per call
Austria -wartberg an der krems
437587
20¢
per call
Austria -warth (niederösterreich)
432629
20¢
per call
Austria -wattens
435224
20¢
per call
Austria -wegscheid
433884
20¢
per call
Austria -weichselboden
433886
20¢
per call
Austria -weikertschlag an der thaya (raabs an der
432845
20¢
per call
Austria -weins-isperdorf
437414
20¢
per call
Austria -weitensfeld im gurktal
434265
20¢
per call
Austria -weitersfeld
432948
20¢
per call
Austria -weitersfelden
437952
20¢
per call
Austria -weitra
432856
20¢
per call
Austria -weiz
433172
20¢
per call
Austria -weißbriach
434286
20¢
per call
Austria -weißenbach am lech
435678
20¢
per call
Austria -weißenbach an der triesting
432674
20¢
per call
Austria -weißenkirchen in der wachau
432715
20¢
per call
Austria -wels
437242
20¢
per call
Austria -wenns
435414
20¢
per call
Austria -werfen
436468
20¢
per call
Austria -werfenweng
436466
20¢
per call
Austria -wernberg
434252
20¢
per call
Austria -westendorf
435334
20¢
per call
Austria -weyer
437355
20¢
per call
Austria -weyregg am attersee
437664
20¢
per call
Austria -wien
431
20¢
per call
Austria -wiener neudorf
432351
20¢
per call
Austria -wiener neustadt
432622
20¢
per call
Austria -wienerbruck
432728
20¢
per call
Austria -wieselburg
437416
20¢
per call
Austria -wiesmath
432645
20¢
per call
Austria -wildalpen
433636
20¢
per call
Austria -wildon
433182
20¢
per call
Austria -wildschönau
435339
20¢
per call
Austria -wilfersdorf
432573
20¢
per call
Austria -wilhelmsburg
432746
20¢
per call
Austria -wilhering
437226
20¢
per call
Austria -willendorf
432620
20¢
per call
Austria -windhaag bei freistadt
437943
20¢
per call
Austria -windhaag bei perg
437264
20¢
per call
Austria -windischgarsten
437562
20¢
per call
Austria -winklern
434822
20¢
per call
Austria -winzendorf-muthmannsdorf
432638
20¢
per call
Austria -wolfern
437253
20¢
per call
Austria -wolfsberg
434352
20¢
per call
Austria -wolfsberg im schwarzautal
433184
20¢
per call
Austria -wolkersdorf im weinviertel
432245
20¢
per call
Austria -wulzeshofen
432527
20¢
per call
Austria -wörgl
435332
20¢
per call
Austria -ybbs an der donau
437412
20¢
per call
Austria -ybbsitz
437443
20¢
per call
Austria -zederhaus
436478
20¢
per call
Austria -zell am moos
436234
20¢
per call
Austria -zell am see
436542
20¢
per call
Austria -zell am ziller
435282
20¢
per call
Austria -zellerndorf
432945
20¢
per call
Austria -zeltweg
433577
20¢
per call
Austria -ziersdorf
432956
20¢
per call
Austria -zirl
435238
20¢
per call
Austria -zistersdorf
432532
20¢
per call
Austria -zurndorf
432147
20¢
per call
Austria -zwentendorf
432277
20¢
per call
Austria -zwettl an der rodl
437212
20¢
per call
Austria -zwettl-niederösterreich
432822
20¢
per call
Austria -location independent (voip)
43720
20¢
per call
Austria -Ötztal-bahnhof
435266
20¢
per call
Austria -Ãœbelbach
433125
20¢
per call
Austria - mobiles
43650
23¢
per minute
Austria - mobiles
43660
23¢
per minute
Austria - mobiles
43664
23¢
per minute
Austria - mobiles
43676
23¢
per minute
Austria - mobiles
43680
23¢
per minute
Austria - mobiles
43681
23¢
per minute
Austria - mobiles
43688
23¢
per minute
Austria - mobiles
43699
23¢
per minute
---
Making cheap calls to Austria has never been easier! Call another country: